US economy adds 528,000 jobs in July, blowing past expectations
Economists expected job growth to slow in July as the Fed raises interest rates
U.S. job growth unexpectedly accelerated in July, defying fears of a slowdown in hiring even as the labor market confronts the twin threats of scorching-hot inflation and rising interest rates.
Employers added 528,000 jobs in July, the Labor Department said in its monthly payroll report released Friday, blowing past the 250,000 jobs forecast by Refinitiv economists. The unemployment rate, meanwhile, edged down to 3.5%, the lowest level since the COVID-19 pandemic began more than two years ago. 
The U.S. has now replaced all the jobs that were lost during the pandemic. 
Job gains were broad-based in July, with leisure and hospitality leading the way in hiring, adding 96,000 new workers. That was followed by professional businesses services (89,000), health care (70,000) and government (57,000). Construction contributed 32,000 new jobs while manufacturing added 30,000. 
HOW DEMOCRATS' BEEFED-UP IRS COULD HURT LOW-INCOME AMERICANS
The uptick in hiring comes amid a growing consensus that the economy is losing momentum as the Federal Reserve hikes interest rates at the fastest pace in decades to wrestle inflation under control. The Commerce Department reported last week that gross domestic product, the broadest measure of goods and services produced in the nation, shrank 0.6% in the three-month period from April to June. That followed a decline of 1.6% in the first three months of the year. 
With back-to-back quarterly declines in GDP, the economy meets the technical criteria for a recession.
While many economists have argued the strong jobs market has so far prevented the U.S. from sliding into a downturn, job growth momentum is expected to cool markedly in coming months as companies cut staff in order to accommodate for lower demand.
Jobless claims have started to steadily tick higher in recent weeks and a plethora of companies, including Alphabet's Google, Walmart, Apple, Meta, Robinhood and Microsoft, have announced hiring freezes or layoffs in recent weeks.
"A powerful increase in July employment—at 528,000, the largest since last December—underscored bedrock support from the labor market, putting the economy on a more gradual trajectory for a recession," said Gary Schlossberg, a global strategist at Wells Fargo Investment Institute.
DEMOCRATS' MINIMUM CORPORATE TAX WOULD HIT THESE INDUSTRIES THE HARDEST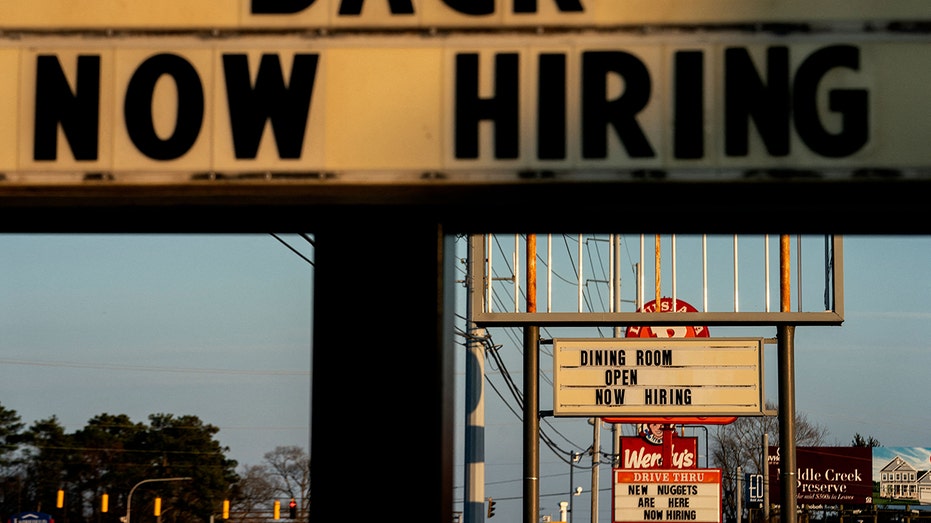 The incredibly tight labor market is in part fueling record-high inflation, as millions of workers are seeing the largest pay gains in years – the result of companies competing with one another for a limited number of employees. Earnings rose 5.2% in July from the previous year, much higher than the pre-pandemic average of 3%. On a monthly basis, wages rose 0.5%, coming in hotter than economists expected.
The surprisingly strong July jobs report, coupled with hotter-than-expected wage growth, could pave the way to a third consecutive 75-basis point increase – triple the usual size – at the Fed's next policy-setting meeting in September. Traders are already pricing in a 64% chance of another super-sized increase in the fall. 
That could create even more burdens for businesses because hiking interest rates tends to create higher rates on consumer and business loans, which slows the economy by forcing employers to cut back on spending.
The jump in payroll growth "is not quite what the Fed was hoping to see, particularly the acceleration of average hourly earnings to a 0.5% month-over-month growth pace," said Jason Pride, chief investment officer of private wealth at Glenmede. "All else equal, this should take away any excuse from the Fed to begin slowing down its tightening pace, as there are still few concrete signs of inflation returning to normal."
CLICK HERE TO READ MORE ON FOX BUSINESS
Markets sank Friday morning as the data dashed hopes of a more dovish Fed in coming months.