US companies added just 128,000 jobs in May, lowest in two years: ADP
ADP employment report shows that private payroll growth slowed markedly in May
Private payroll job growth slowed markedly in May, suggesting the tightest labor market in decades has made it difficult for businesses to fill a record number of open positions, according to the ADP National Employment Report released Thursday morning. 
Companies added just 128,000 jobs last month, sharply missing the 300,000 gain that economists surveyed by Refinitiv had predicted. It marked the worst month for job creation since April 2020, when the pandemic shut down a broad swath of the nation's economy, triggering millions of layoffs across the nation. It's also a drop from last month's downwardly revised gain of 202,000.
SURGING INFLATION SQUEEZING SMALL BUSINESSES, GOLDMAN SACHS SURVEY SHOWS
"In April, the labor market recovery showed signs of slowing as the economy approaches full employment," said Nela Richardson, chief economist at ADP. "While hiring demand remains strong, labor supply shortages caused job gains to soften for both goods producers and services providers."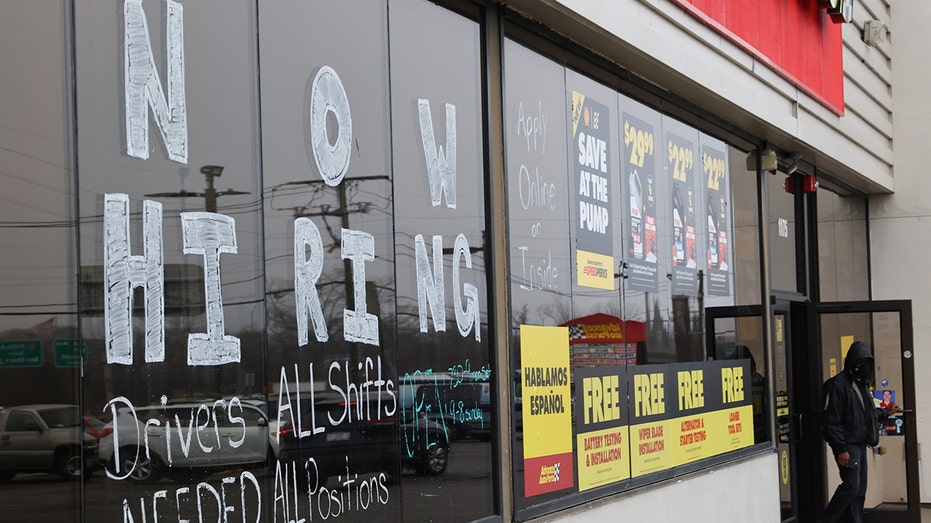 The hiring deceleration largely stemmed from small businesses, as companies with fewer than 50 workers actually saw payrolls plunge by 91,000 last month. The decline was even more pronounced in businesses with fewer than 19 workers, with those employers accounting for the bulk of the losses last month, shedding 78,000 jobs. 
That's in part because the hottest inflation in 40 years, coupled with a persisting labor shortage and the high cost of attracting new employees, has made it difficult for small business owners to maintain their bottom line and retain workers.
"Small businesses remain a source of concern as they struggle to keep up with larger firms that have been booming as of late," Richardson said. 
Large businesses that employ 500 or more workers helped to offset the decline, hiring 122,000 new workers last month. The bulk of the payroll increase stemmed from businesses with more than 1,000 employees, which saw a gain of 77,000 workers in May. Medium businesses, meanwhile, saw positions jump by 122,000.
Service-providing industries added 104,000 new jobs last month, with the largest increases in education and health services (46,000), professional and business services (23,000), trade, leisure and hospitality (17,000), and financial activities (10,000).
Goods-producing industries, meanwhile, saw payrolls grow by 24,000, with the bulk of the gains in manufacturing (22,000).
GET FOX BUSINESS ON THE GO BY CLICKING HERE
The ADP release comes one day ahead of the more closely watched Labor Department jobs report, which is expected to show that payrolls rose by 325,000 and the unemployment rate inched down slightly to 3.5%, the lowest level since the pandemic began in February 2020.