US budget deficit cut in half to $1.38T as pandemic spending slows down
Biden's student loan forgiveness plan keeps US deficit high
The U.S. federal budget deficit fell by half for the 2022 financial year as once-aggressive pandemic relief spending dried up and receipts surged, the Treasury Department said on Friday. 
The gap between what the government spent and what it collected tumbled to $1.375 trillion at the end of September, down from the 2021 deficit of $2.776 trillion. 
"Today's joint budget statement provides further evidence of our historic economic recovery, driven by our vaccination effort and the American Rescue Plan," Treasury Secretary Janet Yellen said in a statement. "It also demonstrates President Biden's commitment to strengthening our nation's fiscal health."
Deficits in the past two years skyrocketed as Congress approved an unprecedented amount of spending to prop up the economy during the pandemic. 
INFLATION SURGED MORE THAN EXPECTED IN SEPTEMBER AS PRICES REMAIN PAINFULLY HIGH
Critics noted the bulk of the deficit reduction stemmed from the phasing out of COVID-19 relief spending, including the massive $1.9 trillion package that Democrats unanimously passed last year and that experts say contributed to the spending-fueled inflation spike in the U.S. 
The decline also would have been steeper if it were not for the Biden administration's student loan forgiveness plan: Education Department spending for the year totaled $639.4 billion, $408 billion higher than the estimate.
US RECESSION ODDS RISE TO 100% AS INFLATION SQUEEZES THE ECONOMY
In September alone, the Education Department spent $445 billion, more than the combined monthly spending amounts from the Departments of Defense, Veterans Affairs, and Health and Human Services, plus the Social Security Administration.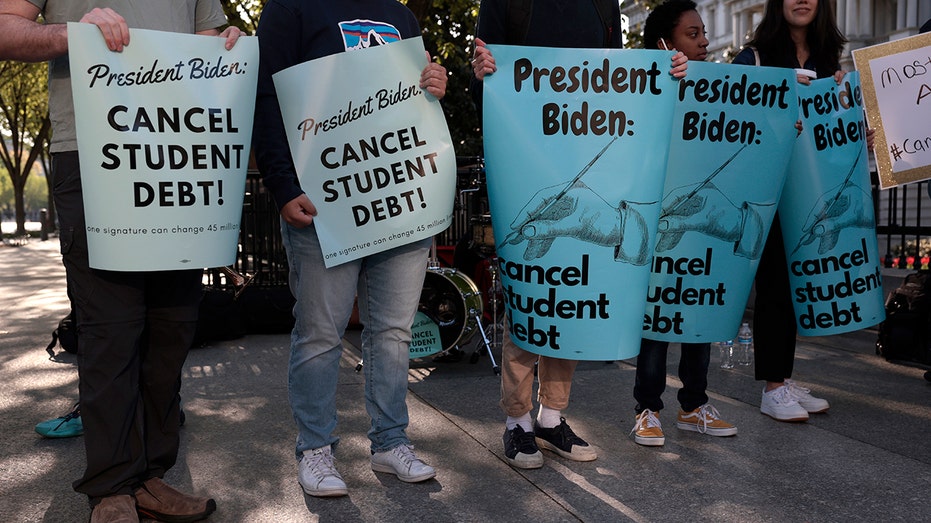 The bulk of that money – about $430 billion – stemmed from President Biden's student loan cancellation program, which will wipe out as much as $20,000 in debt per borrower. 
CLICK HERE TO READ MORE ON FOX BUSINESS
"In fact, the deficit would have been almost $400 billion lower had the Biden administration not decided to enact an inflationary, costly and regressive student debt cancellation plan in August," Maya MacGuineas, president of the Committee For a Responsible Budget, said in a statement. "It should be no surprise that the Federal Reserve is having a hard time getting inflation under control when fiscal policymakers keep making their job even harder with more borrowing."
Fox Business' Peter Kasperowicz contributed to this report