Trump's regulation rollback is sparking US growth: Larry Kudlow
The Trump administration's deregulatory efforts have put the U.S. economy on the path toward higher economic growth, National Economic Director Larry Kudlow said on Wednesday.
"Particularly in 2017, the deregulation started everywhere across the board … and I think that started this push and started the small business push and the blue collar hiring," he told FOX Business' Stuart Varney on "Varney & Co." from the White House. "Then comes the tax rate reduction, which adds to it on the incentive front, so they're working very much together."
President Trump told Varney that Republicans planned to continue cutting red tape, as well as moving ahead with more tax cuts after the midterm elections.
The U.S. economy expanded by 4.2 percent in the second quarter, according to the U.S. Commerce Department, which was the fastest pace since the third quarter of 2014. Economists forecast that growth this year could exceed the White House's 3 percent goal. As for the third quarter, GDPNow, the Federal Reserve Bank of Atlanta's real-time tracker, is estimating 3.9 percent growth.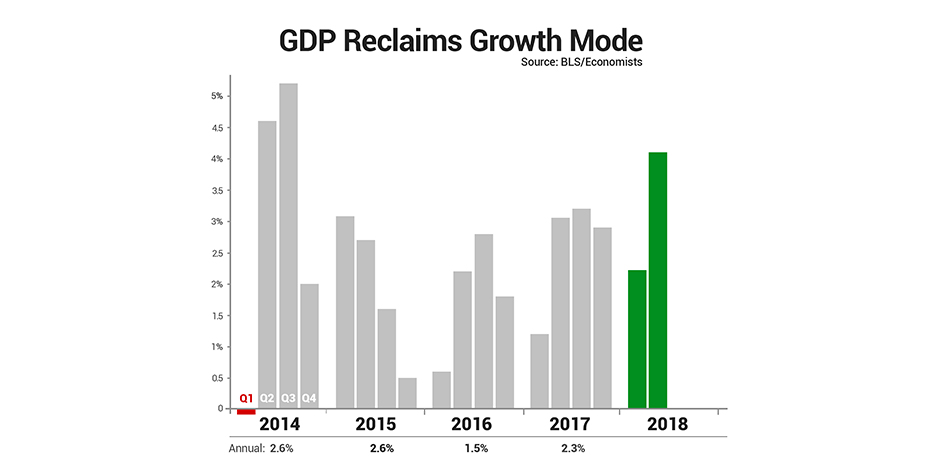 The Trump administration said late Tuesday that the elimination of burdensome regulation has saved American families and businesses $23 billion in fiscal 2018 alone. The White House said that during President Barack Obama's tenure, on the other hand, more than $245 billion costs were added.
On average, 12 unnecessary regulations have been eliminated for each new one passed, according to a report by the Office of Information and Regulatory Affairs (OIRA).
OIRA Administrator Neomi Rao called the Trump administration's deregulatory agenda "a fundamental change in direction" in a statement on Tuesday night.
Office of Management and Budget director Mick Mulvaney told FOX Business on Wednesday that the administration had cut 176 regulations last year and was focused on eliminating three main ones in the near future: "Waters of the U.S.," CAFE standards for cars and a clean power plant rule.