Retail sales fall shy of expectations as consumers confront sky-high inflation
Economists expected consumers to ramp up spending in March, despite sky-high inflation
U.S. consumers continued to open their wallets in March, even as they confronted the hottest inflation in four decades.
Retail sales, a measure of how much consumers spent on a basket of goods ranging from cars to food and gasoline, rose 0.5% in March from the prior month, the Commerce Department said Thursday. Economists surveyed by Refinitiv expected sales to rise 0.6%. It marked a noted slowdown from the upwardly revised 0.8% gain in February.
MOST SMALL BUSINESSES SINCE 1974 ARE HIKING PRICES TO OFFSET INFLATION
The so-called core retail sales, which exclude automobiles, gasoline, building materials and food services and are most closely correlated with the consumer spending aspect of the nation's gross domestic product, fell 0.1% in March after tumbling 0.9% in February.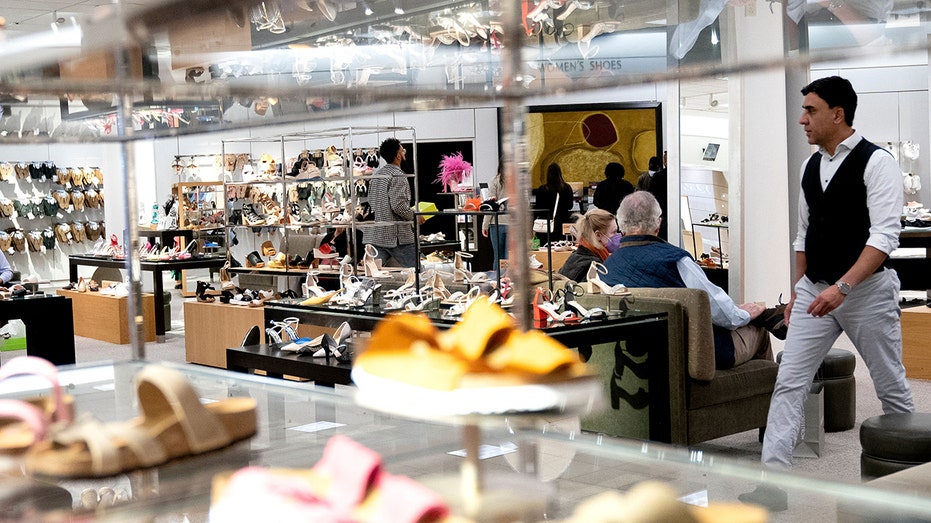 "The disparity between headline and core sales largely reflects the impact of surging gas prices since the outbreak of war in Ukraine and the corresponding spike in energy costs," said Jim Baird, Plante Moran Financial Advisors chief investment officer. "Gas station sales rose 8.9% last month, sapping dollars directly out of household discretionary spending."
The March advance, which is not adjusted for inflation, was led by the burst in spending on gasoline. Prices for gasoline rose 18.3% during that same period. In total, the sector has seen a 37% jump in sales over the year. 
By comparison, online shopping sales actually dropped 6.5% in March after declining 3.5% in February. Sales at sporting goods, hobby, musical instrument and book stores, meanwhile, rose 3.3%, while receipts at bars and restaurants increased by 1%. 
The data comes as consumers face the worst inflation spike since 1982: The government reported earlier this week that the consumer price index climbed 1.2% in March, bringing the year-over-year gain to 8.5%, the highest since December 1981. 
GET FOX BUSINESS ON THE GO BY CLICKING HERE
Soaring consumers prices have eroded the strong wage gains that Americans have seen this year: Average hourly earnings for all employees actually declined 2.7% in March from the same month a year ago when factoring in the impact of rising consumer prices. On a monthly basis, average hourly earnings tumbled by 0.8% in March, when factoring in the 1.2% inflation spike. 
"Notably, retail sales aren't adjusted for rising prices," Baird said. "With inflation casting an increasingly long shadow over household spending, even decent monthly retail sales gains don't look as good through the lens of GDP.  In real terms, consumer spending on goods appears to have fallen in March."