Feds seeking information from Tesla on crash into fire truck that left driver dead
The Tesla plowed into the fire truck as it shielded first responders on a California highway
A Tesla Model S slammed into a fire truck that was shielding first responders as they worked a previous accident on a California highway in the early morning hours of Feb. 18, leaving the Tesla driver dead and the passenger critically injured. 
Now the National Highway Traffic Safety Administration (NHTSA) is seeking information from Tesla about the wreck, Reuters reported on Monday. 
It wasn't immediately clear whether the Tesla involved in Saturday's crash was on autopilot, which has come under increased scrutiny from regulators recently.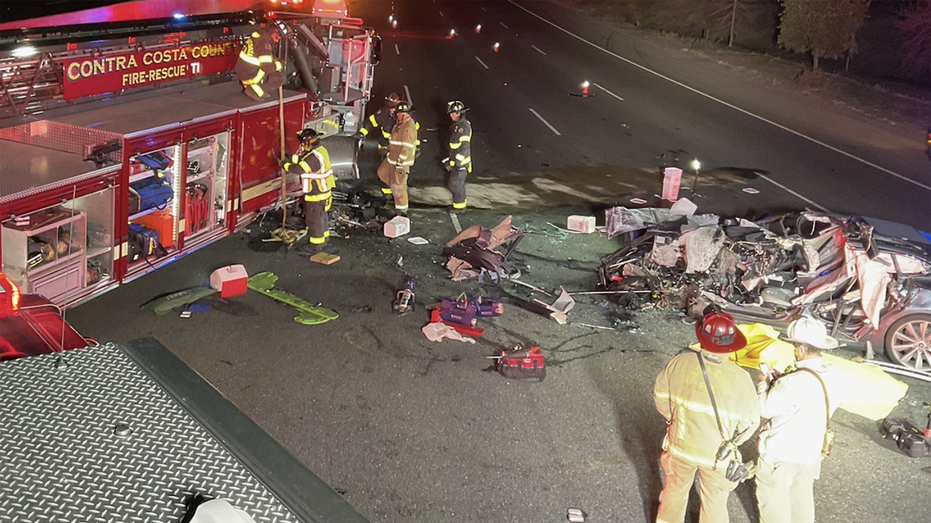 Tesla announced a recall of 362,758 vehicles equipped with its Full Self-Driving software last week after the NHTSA determined that the cars sometimes exceed speed limit and drive straight through intersections while in a turn-only lane. 
TESLA WAS THE USA'S BEST-SELLING LUXURY BRAND IN 2022, BEATING BMW AND MERCEDES-BENZ
The agency has been investigating Tesla's self-driving systems for years. At least a dozen Teslas have crashed into emergency vehicles while on autopilot. 
The Department of Justice also requested information from Tesla about its Full Self-Driving system last month. 
Tesla did not respond to a request for comment on Monday. 
GET FOX BUSINESS ON THE GO BY CLICKING HERE
Four firefighters were also transported to a local hospital for treatment after Saturday's crash. 
"Slow down and move over when approaching emergency vehicles," the Contra Costa County Fire Protection District told drivers.