Fed's inflation gauge hits fresh 31-year high as prices continue to soar
Prices soared by 5% in the year through October
Annual inflation is running at the hottest pace in more than three decades as widespread supply shortages, extraordinarily high consumer demand and rising wages fuel rapidly rising price increases.
Prices soared by 5% in the year through October, according to the Personal Consumption Expenditures price index data released Wednesday morning. That topped the previous month's estimates, becoming the fastest pace increase since November 1990. 
Excluding the more-volatile measurements of food and energy, prices rose 4.1% in October from the previous year – the highest since January 1991. That measurement is the Federal Reserve's preferred gauge to track inflation; their target range is around 2%. 
FED TO TAPER BOND PURCHASES BY $15B A MONTH AS IT EXITS PANDEMIC-ERA POLICY
In the one-month period between September and October, prices jumped 0.6% (0.4% when excluding food and energy costs).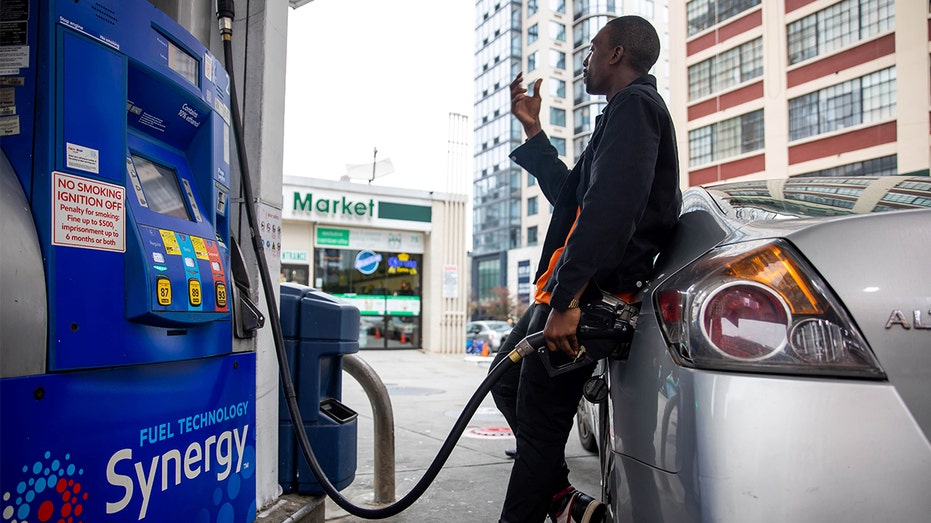 The inflation spike largely reflected surging energy costs, which rose 30.2% from a year ago, and food costs, which were up 4.8% over that same time period. Services inflation rose by 6.3% in October, and goods inflation increased 7.3% – up from the 6.4% pace a month prior, the data shows.
Household spending, meanwhile, climbed 1.3% in October from a month earlier, while personal income increased 0.5%, according to the Commerce Department report. Consumers amped up their spending on goods, both bigger and smaller purchases, by 2.2% last month.
The report comes as Federal Reserve policymakers grapple with inflation that has been higher and more persistent than they initially expected. With the labor market recovering faster than expected – unemployment is at 4.6%, down from a high of 14.8% in the early days of the pandemic – officials have started to take their foot off the gas, announcing earlier this month a gradual slowing down of bond purchases.
Fed Chairman Jerome Powell has maintained that policymakers will conclude the tapering process, which is on track to wrap up in June at the current pace, before raising interest rates from near-zero. 
But traders are currently pricing in at least three rate hikes next year, with the probability following the release of the latest inflation data. 
Powell – who was tapped by President Biden to lead the Fed for another four years – pledged Monday to use the Fed's full arsenal to prevent faster inflation from becoming more permanent. 
"We know that high inflation takes a toll on families, especially those less able to meet the higher cost of essentials like food housing and transportation," he said. "We'll use our tools to support economy and labor market and prevent higher inflation from becoming entrenched." 
GET FOX BUSINESS ON THE GO BY CLICKING HERE
Still, Powell has maintained that the price spike has been driven by "supply and demand imbalances, bottlenecks, and a burst of inflation" that were caused by the "unprecedented reopening of the economy, along with the continuing effects of the pandemic." He has previously said that as the economy opens up and supply-chain disruptions dissipate, the inflation jump will abate.
Fed officials will release their latest economic projections at their next policy-setting meeting, which is slated to take place Dec. 14-15.