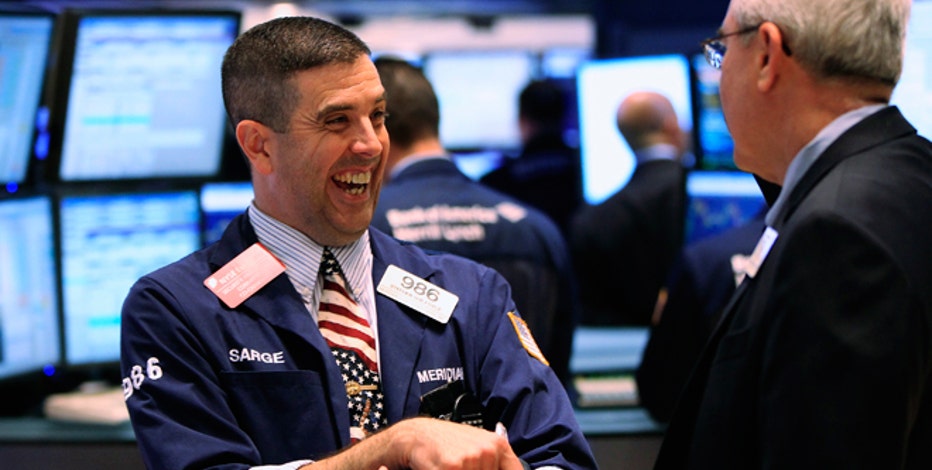 FOX Business: Capitalism Lives Here
The Dow roared more than 150 points higher Wednesday on the back of a triple-digit rally in the previous session as traders grew more confident Europe's debt crisis won't flare up.
As of 2:40 p.m. ET, the Dow Jones Industrial Average climbed 167 points, or 1.2%, to 14067, the S&P 500 gained 19 points, or 1.3%, to 1516 and the Nasdaq Composite rose 40.1 points, or 1.3%, to 3170.
Every major sector was in the green, led by industrial, materials and consumer discretionary stocks. Traditional defensive stocks, like utilities, consumer staples and telecommunications, came out of favor. Still, traders continued bidding up U.S. Treasury bonds.
The upbeat sentiment Wednesday began in European markets, where Italy held a successful bond auction. Rome sold $5.2 billion in 10-year debt, meeting its target. However, the yield jumped to 4.83% -- the highest the country has had to pay since October, according to Reuters. Borrowing costs for the same period moved up 0.08-percentage point on the secondary market to 4.91%.
Analysts at Barclays wrote in a note to clients that the debt sale should "reassured the markets for now." Still, the bank warns that downside risks to European risky assets -- like equities -- remains.
Housing Data Top Expectations; Goods Orders Mixed
"Say what you will about government dysfunction, the sequester, the fiscal cliff and the budget debate but the fact remains that capital spending appears to be holding up very well," Dan Greenhaus, chief global strategist at BTIG wrote in an email. "In fact, it appears to be accelerating."
The National Associate of Realtors reported U.S. pending home sales rose 4.5% in January from December, outpacing the 1.5% gain expected, according to the National Association of Realtors.
Fed chief Bernanke will testify before the U.S. House of Representatives later in the day. In remarks to the Senate on Tuesday, Bernanke "made clear" he stands with Federal Open Market Committee members who wish to continue asset purchases beyond the middle of this year, according to economists at Nomura.
In commodities, oil prices inched higher. The benchmark U.S. contract gained 23 cents, or 0.21%, to $92.84 a barrel. Wholesale New York Harbor gasoline climbed 0.32% to $2.991 a gallon. Gold dropped $9.30, or 0.58%, to $1,606 a troy ounce.
The Euro Stoxx 50 gained 0.52% to 2583, the English FTSE 100 rose 0.26% to 6288 and the German DAX climbed 0.26% to 7617.
In Asia, the Japanese Nikkei 225 dropped 1.3% to 11253 and the Chinese Hang Seng inched up 0.25% to 22577.
Continue Reading Below
Advertisement