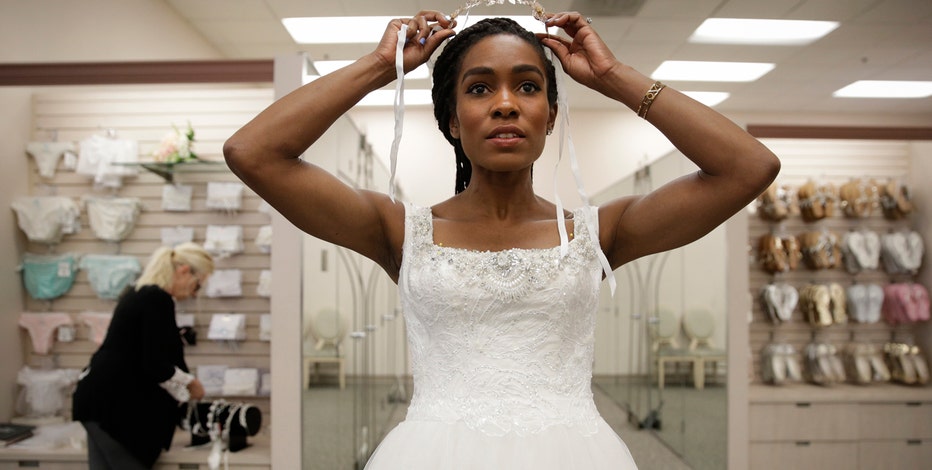 National bridal chain Alfred Angelo announced unexpectedly Thursday that it will be shuttering its locations, leaving many orders unfinished.
The retailer closed its doors without warning and has released no official statement regarding the shutdown.
The bridal retailer operates more than 60 locations across the U.S. and its dresses are sold at more than 1,400 wholesale stores worldwide.
In Indianapolis one Alfred Angelo location left a note on its doors to customers.
"We are devastated and loved working with you all. It was our pleasure to be a part of your lives and your weddings. We are so sorry. We knew NOTHING."
The note also told customers that they would be in contact as soon as they could about their orders.
More from FOX Business...
At many of the retail locations information for a law firm was handed out to customers to contact.
One customer, Katie Mooney, found her dream dress at the store in August of 2016 for her September 2017 wedding, ordering it that day and paid in full. Last week, she met with her seamstress at the shop who assured her the dress would be ready for pickup next week.
"It was so perfect, and special- it was from the 2017 line and I was the first one to even try it on. The truck had just came that day and my sales person thought of me and ran and got it," Mooney told FOX Business.
Mooney found out about the store closure from a friend last night, but at the time thought that it was only the Florida store.
"My friend sent me a link last night about the Florida closing, but it didn't seem really serious or that we would be affected," Mooney said. "She sent me another message this morning, 'Did you get your dress?' with fingers crossed. Even then I sent her a reply stating I was going on Monday to finally get it- she goes Are you sure? And then I see Twitter, still not wanting to believe, I googled. And then cried."
Alfred Angelo is a longtime bridal retailer, founded in 1933, operating out of its corporate headquarters in Delray Beach, Florida. The chain will reportedly file for bankruptcy in the latest closure vexing the retail industry.
The retail industry has been hit particularly hard in the last year, with bankruptcies plaguing businesses. According to Challenger, Gray & Christmas, all U.S. employers have announced a total of 195,895 job cuts so far this year.
Of these total U.S. job cuts across all industries, retailers continue to announce the most job cuts with 55,910 through May, but the sector added 8,100 jobs in June.
Alfred Angelo did not respond to FOX Business' request for comment at the time of publication.
Continue Reading Below
Advertisement