Facebook parent company Meta says it is censoring content that supports pro-Bolsonaro raids
Meta said they have designated Brazil as a 'high-risk location'
Meta, the parent company of Facebook, said Monday that they will be taking down posts that support the raids of Brazilian government buildings by supporters of former President Jair Bolsonaro.
A week after President Luiz Inácio Lula da Silva was sworn in, Bolsonaro supporters stormed Congress, the Supreme Court, and the presidential palace while calling for the military to overthrow the new leader. Pro-Bolsonaro protesters have been taking to the streets in opposition to Lula since late October, blocking roads, setting vehicles on fire, and gathering outside military buildings, and asking the armed forces to intervene.
"In advance of the election, we designated Brazil as a temporary high-risk location and have been removing content calling for people to take up arms or forcibly invade Congress, the Presidential palace and other federal buildings," a spokesperson for Meta said in a statement reported by Reuters.
"We are also designating this as a violating event, which means we will remove content that supports or praises these actions," the statement continued. "We are actively following the situation and will continue removing content that violates our policies.
BRAZIL'S NATIONAL CONGRESS, OTHER SITES RAIDED BY PRO-BOLSONARO PROTESTERS OPPOSING LULA VICTORY
At about 5:30 p.m. local time on Sunday, less than three hours after the storming, security forces seemed to be regaining control of the presidential palace and Supreme Court's surroundings, while thousands of protesters remained around Congress and on its roof.
President Biden spoke out against the destruction, expressing support for the new administration.
META FINED NEARLY $414M OVER PRIVACY  VIOLATIONS BY EU REGULATORS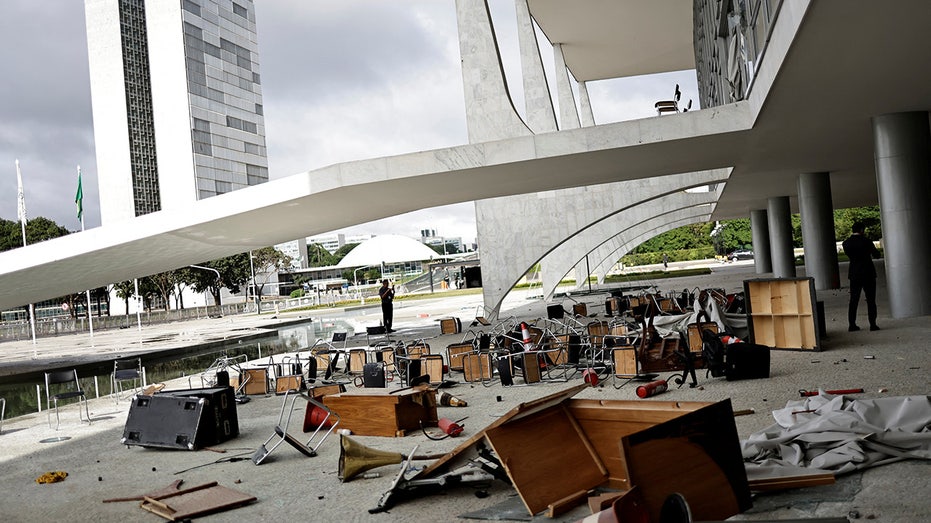 "I condemn the assault on democracy and on the peaceful transfer of power in Brazil," Biden wrote in a Sunday statement. "Brazil's democratic institutions have our full support and the will of the Brazilian people must not be undermined. I look forward to continuing to work with President Lula."
GET FOX BUSINESS ON THE GO BY CLICKING HERE
Bolsonaro himself spoke out against the rioting in a statement reported by The Wall Street Journal.
"Peaceful demonstrations, within the law, are part of democracy. However, vandalism and the invasion of public buildings like today's acts, and like those practiced by the left in 2013 and 2017, are an exception," Bolsonaro said.
Fox News' Bradford Betz, Anders Hagstrom, and the Associated Press contributed to this report.