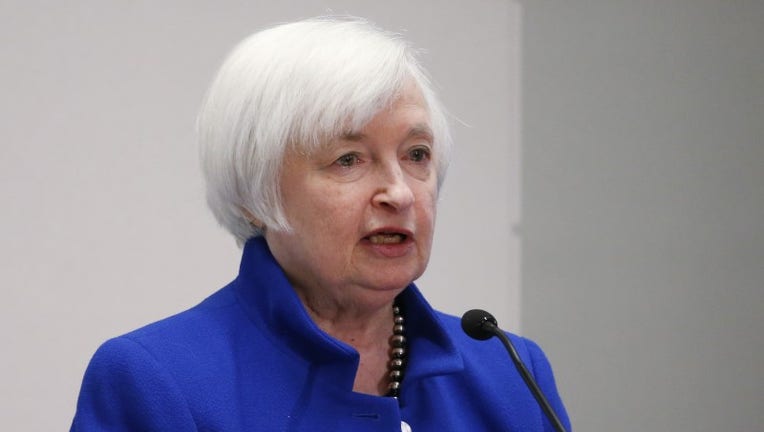 The Federal Reserve could raise U.S. interest rates "relatively soon," Fed Chair Janet Yellen said on Thursday as data showing a surge in housing starts and uptick in inflation underscored her upbeat assessment of where the country stands.
In Yellen's first remarks since the election of Donald Trump as the next president, the Fed chair indicated little had yet changed as a result of the Nov. 8 outcome. She said she intends to serve out her term, which ends in 2018, and indicated the Fed remains on track to raise rates at its meeting next month.
"The evidence we have seen since we met in November is consistent with our expectation of strengthening growth and improving labor markets and inflation moving up," Yellen said.
She made no mention in her prepared statement to a congressional committee of the possibility Trump's new administration could add tax cuts and hundreds of billions in new spending to an economy that may be gathering steam on its own.
But she did say the Fed was prepared to adjust its outlook as the new administration takes shape.
"When there is greater clarity about the economic policies that might be put into effect the (Federal Open Market Committee) will have to factor those assessments of their impact on employment and inflation and perhaps adjust our outlook," Yellen said.
At this point, Yellen said she saw only a "limited" risk that the Fed would end up behind the curve and lose control of an inflation rate that has been frustratingly low since the financial crisis and recession of 2007 to 2009.
There is, Yellen said, still "room to run" in the U.S. recovery, and rate increases can likely proceed on a gradual basis.
But she noted that wages were rising, growth had accelerated over the second half of the year, and the world economy was on a firmer footing than it had been in recent months when uncertainty about China and Europe had caused the Fed to postpone its rate increase plans.
Economic data released on Thursday was strong, with consumer prices posting their largest gain in six months, new home construction soaring and news claims for unemployment benefits near 43-year lows.
"U.S. economic growth appears to have picked up," Yellen said.
Yellen said Fed policymakers at their meeting earlier in November judged that the case for a rate hike had strengthened.
"Such an increase could well become appropriate relatively soon," Yellen said.
Yellen spoke to Congress's Joint Economic Committee, which includes members of both the House and Senate.
The Fed chair gave a generally upbeat assessment of an economy that continues to generate jobs at a pace adequate to absorb new employees and keep others engaged in work.
Wage growth "has stepped up," Yellen said, while consumer spending, critical as the major component of U.S. gross domestic product, "continued to post moderate gains," and help economic growth rebound from a weak first half.
(Reporting by Jason Lange and Howard Schneider; Editing by Chizu Nomiyama and Andrea Ricci)