Yellen: First Rate Hike Could Come This Year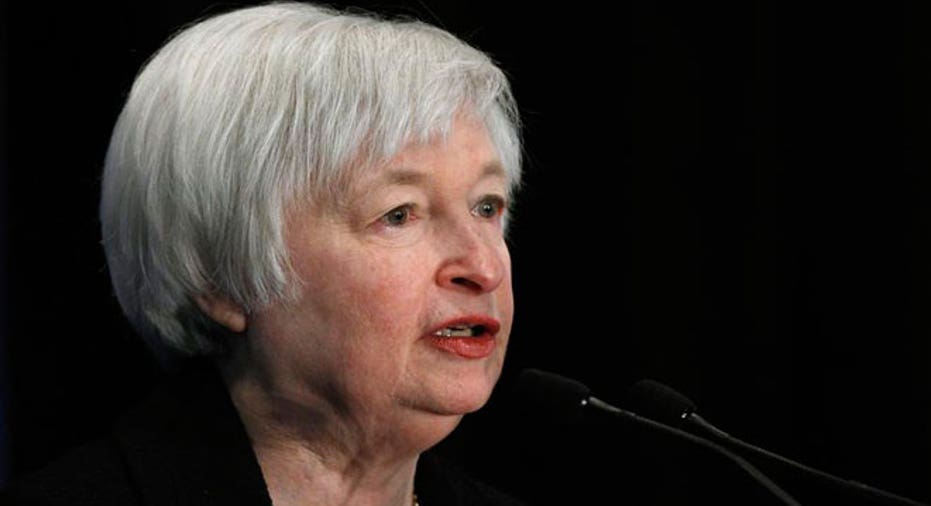 Federal Reserve Chair Janet Yellen said Friday interest rates will move higher "this year" if the U.S. economy continues to improve along the path predicted by central bankers.
"If the economy continues to improve as I expect, I think it will be appropriate at some point this year to take the initial step to raise the federal funds rate target and begin the process of normalizing monetary policy," Yellen said in prepared remarks in Providence, Rhode Island.
Yellen offered no more specifics on timing, adhering to her and her colleagues' recently-stated position that the decision to lift rates is being considered on a meeting-by-meeting basis. She reiterated that the pace of increases will be "gradual" once liftoff occurs.
The Fed's policy-setting Federal Open Market Committee has essentially ruled out any shift in interest rates at their upcoming June meeting, having decided at their last meeting in April that a weak first quarter caused by another severe winter and other "transitory" issues including a dock strike in California that disrupted supply chains justified a delay.
Yellen offered a broadly optimistic view of the economy, saying a number of headwinds that stalled the economic recovery since the recession ended in 2009 have diminished. Housing prices have climbed higher in most regions, erasing losses inflicted during the crash of 2008 and lifting personal wealth, she said. In addition, federal and municipal budget tightening has also eased in many areas of the country, and "accommodative monetary policies" overseas, especially in Europe, should alleviate the threat of contagion to the U.S. economy.
As always, interest rates and inflation were central to Yellen's comments.
The Fed has targeted two indicators for helping it determine when to raise rates for the first time in nearly a decade after holding them at near-zero since December 2008. The first, unemployment, has reached its target goal of 5.2%-5.6%, but the second, a 2% annual inflation rate, has proven more difficult to achieve.
But Yellen on Friday reiterated the Fed's confidence that the economy is heading toward that 2% target.
"With oil prices no longer declining, and with the public's expectations of future inflation apparently stable, my colleagues on the Federal Open Market Committee (FOMC) and I believe that consumer price inflation will move up to 2% as the economy strengthens further and as other temporary factors weighing on inflation recede," she said.
Data released Friday backed up that assertion. The core Consumer Price Index has risen 1.8% in the past 12 months, just below the Fed's target rate of 2%, according to figures released by the Labor Department. The core CPI is an economic indicator that gauges how much the prices have changed on an array of consumer products excluding food and energy because those costs are often volatile.
However, the broader CPI numbers for April showed little upward momentum. The Labor Department said overall CPI rose 0.1% last month after increasing 0.2% in March. In the 12 months through April, the CPI fell 0.2%, the largest decline since October 2009, after dipping 0.1% in March. Economists had forecast the CPI edging up 0.1% from March and dipping 0.1% from a year ago.
Weak wage growth has been blamed for keeping inflation below the Fed's target rate, a situation that has puzzled economists because monthly employment gains have been strong for the past year and the unemployment rate has dropped significantly.
On Friday, Yellen said too much "slack" remains in the labor market despite the unemployment rate falling to a seven-year low of 5.4% in April.
"The unemployment rate has come down close to levels that many economists believe is sustainable in the long run without generating inflation. But the unemployment rate today probably does not fully capture the extent of slack in the labor market," Yellen said.
Too many Americans can't find any job or are working part-time because they can't find a full-time job, she said.