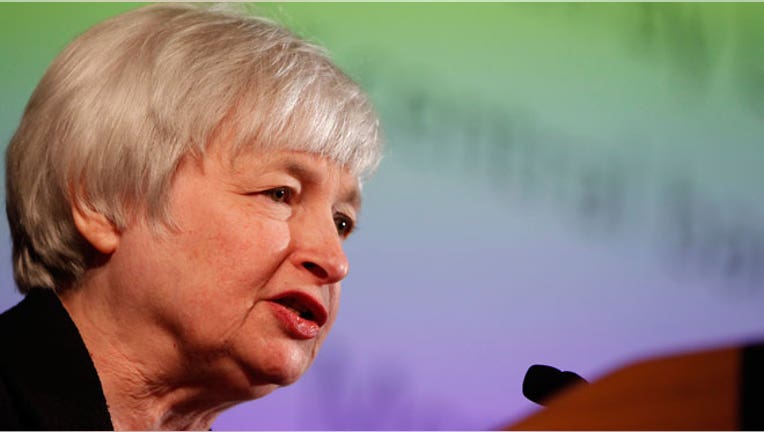 News that Janet Yellen will be nominated to head the U.S. Federal Reserve lifted the dollar and soothed fears over the impact of a budget deadlock on Wednesday, though world shares fell for a third straight day.
A White House official said U.S. President Barack Obama would nominate Yellen, currently deputy chief at the Fed, to head the central bank later in the day.
She is seen as keeping policy on broadly the same path as her predecessor Ben Bernanke, including maintaining the bank's commitment to stimulus to keep economic recovery on track.
"In the face of improving (economic) figures but looming uncertainty, markets can expect Yellen to continue with a cautious hand on the tiller," said Anne Richards, chief investment officer at Aberdeen Asset Management.
However, many market participants expected the positive impact of Yellen's nomination to be short-lived given the lack of progress to end political wrangling in Washington that could lead to a U.S. debt default next week.
Those worries sent European shares <.FTEU3> to a fresh one-month low on Wednesday, a day after a sharp selloff on Wall street saw the broad Standard & Poor's 500 index <.SPX> shed 1.2 percent, its biggest one-day drop in nearly six weeks.
U.S. stock index futures pointed to a small recovery on Wall Street when trading resumes, where attention is also being drawn to the corporate earnings season just getting underway.
The MSCI index of Asia-Pacific shares outside Japan <.MIAPJ0000PUS> also dipped on the budget deadlock, losing 0.3 percent, and leaving MSCI's world index <.MIWD00000PUS> down 0.1 percent, its lowest since September 9.
Implied volatility on euro zone equities, seen as a crude barometer for risk aversion, has jumped 30 percent in nearly two weeks to 21.1. <.V2TX>
However, it is still only at two-thirds of the levels seen in the summer of 2011, during the last major crisis over the debt ceiling.
The main U.S. fear gauge, the CBOE Volatility Index <.VIX>, is at its highest level since June 20 having risen 21.5 percent in the past two days on heavy volumes.
YELLEN WELCOME
Yellen's dovish stance on policy meant her appointment had previously been seen as a net negative for the U.S. currency, but the budget calculus appears to have changed that for the moment.
"In the past when Yellen's nomination became more likely, we saw dollar weakness and suddenly we are seeing dollar strength," said Ulrich Leuchtmann, head of FX research at Commerzbank.
"My interpretation is that we are at the moment in the phase where we might get into very deep trouble with the U.S. budget crisis and if that is the case, it would be good to have a Fed which would be very reactive and this is good for the dollar."
The dollar gained about 0.5 percent to 97.30 yen, moving away from a two-month low of 96.55 touched on Tuesday. It was also up 0.5 percent against the safer Swiss franc at 0.9084 francs.
With only nine days left for Congress to act before an October 17 debt ceiling deadline, there has been little movement in the negotiating positions of President Obama and Congressional Republicans.
That has prompted some investors to take precautions against the possibility of a U.S. default by shunning U.S. debt maturing in late October and early November. The yield on four-week U.S. government bills hit a five-year high above 0.3 percent on Tuesday though it has since edged back to 0.25 percent.
With the government shutdown disrupting economic data and the impact of budget impasse on the economy likely to take months to determine, some investors are convinced that the Fed will keep pumping cash into the economy into next year.
Minutes at 1800 GMT may also offer the market some clue as to the thinking behind the Fed's shock decision last month not to start scaling back its stimulus.
COMMODITY IMPASSE
In the commodity markets gold was stuck in a tight range by the U.S. budget impasse, while oil prices eased below $110 a barrel on concerns that impact on investor confidence could hurt demand for oil. <O/R>
Spot gold rose 0.02 percent to $1,318.50 an ounce well within its recent range of between $1,300 and $1,330 an ounce.
The support for gold will strengthen as we get nearer to the critical (debt ceiling deadline) next week," said Song Seng Wun, an economist at CIMB.