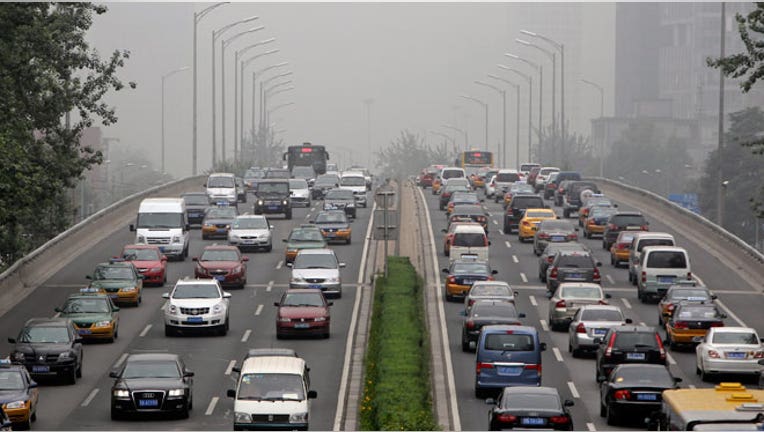 Nobody likes sitting in traffic, but department stores, mall operators and small business owners aren't exactly rooting for empty streets either.
That's because traffic congestion has been linked to economic activity, with larger amounts of gridlock coinciding with stronger growth as Americans order goods, drive to work and hit the malls.
While not nearly as popular among investors as traditional metrics such as retail sales, the latest traffic data offer fresh evidence of the meaningful improvements being felt in the U.S. economy as well as signs of uneven growth in regions like the South.
According to traffic intelligence platform INRIX, U.S. gridlock levels jumped 9.4% year-over-year in April, the second-largest increase recorded since the company began tracking monthly stats in October 2012.
"It correlates with what's going on in the U.S. economy. During recessions there's less activity on the roads and fewer people commuting. Traffic jams tend to go down during recessions and pick up when the economy is doing well," said Gus Faucher, senior macroeconomist at PNC Financial (NYSE:PNC).
Yet the INRIX Global Index (IGI) also reveals trouble for the South, which finished in last place during April amid steep tumbles in traffic in metro areas such as Baton Rouge (-38%), Oklahoma City (-32%), Louisville (-26%) and New Orleans (-21%).
By comparison, traffic in the metro Northeast jumped 10%, 13% in the West and 14% in Midwestern metro areas like Chicago.
"The latest IGI shows the U.S. economy is getting back to business," Bryan Mistele, CEO of INRIX, said in the report. "However the pattern we're seeing in our data shows that some regions -- like the Midwest -- have hit the open road while others are stuck in a lower gear."
The national traffic statistics appear to support traditional barometers of economic growth tracked by investors.
Trucks were busy in April responding to a 3.3% month-over-month leap in durable goods orders that more than doubled forecasts from economists for just a 1.5% increase.
Likewise, consumers confounded expectations and continued to hit the shopping malls, driving U.S. retail sales up 0.1% in April from March despite projections for a 0.3% decline.
More Americans were also commuting to work during April as nonfarm payrolls grew by a stronger-than-expected 165,000 from March and the unemployment rate ticked down to 7.5% -- the lowest level since December 2008.
One trucking metric tracked by economists, the seasonally adjusted for-hire truck tonnage index that is released monthly by the American Trucking Association, climbed 4.3% year-over-year in April -- the largest annual gain since January. The index was down 0.2% in April from March.
The latest traffic data underscore the real improvements being felt in the U.S. economy, but also offer somewhat alarming signals on growth in certain parts of the country, especially the Southeast.
"As traffic builds up, particularly for truck traffic, that means the economy is improving," said Russell Price, senior economist at Ameriprise Financial (NYSE:AMP).
Price said some anticipated traffic gains may be offset by the increasing popularity of telecommuting as well as by younger Americans who have chosen to go back or stay in school due to the tough job market.
It's not clear precisely what caused the steep tumble in traffic in the South during April.
Faucher speculated that New Orleans, Baton Rouge and Oklahoma City -- three major energy production centers -- may be feeling the impact of year-over-year cutbacks in natural gas production and drilling.
The drop-off in congestion matches some other economic indicators. For example, the Federal Reserve's Beige Book revealed observers were more concerned about the economy in Southern districts such as Richmond and Atlanta amid mixed sales activity and ongoing concern about the U.S. fiscal mess.
At least some sophisticated investors already see a real value in scrutinizing the latest traffic intelligence before deciding whether to buy or sell certain stocks.
Jim Bak, senior public relations and marketing manager at INRIX, said the company has an agreement with six hedge funds to provide quarterly data on traffic activity around specific retailers like Wal-Mart (NYSE:WMT) or Home Depot (NYSE:HD).
INRIX said it isn't able to reveal which hedge funds pay for this service, but said the funds use the data to help predict earnings and sales.
"We got a call from a hedge fund one day and they explained to us what they were thinking and we said we'd run the numbers. They were ecstatic about the results," said Bak.