Wisconsin needs high-skill workers to fill Foxconn jobs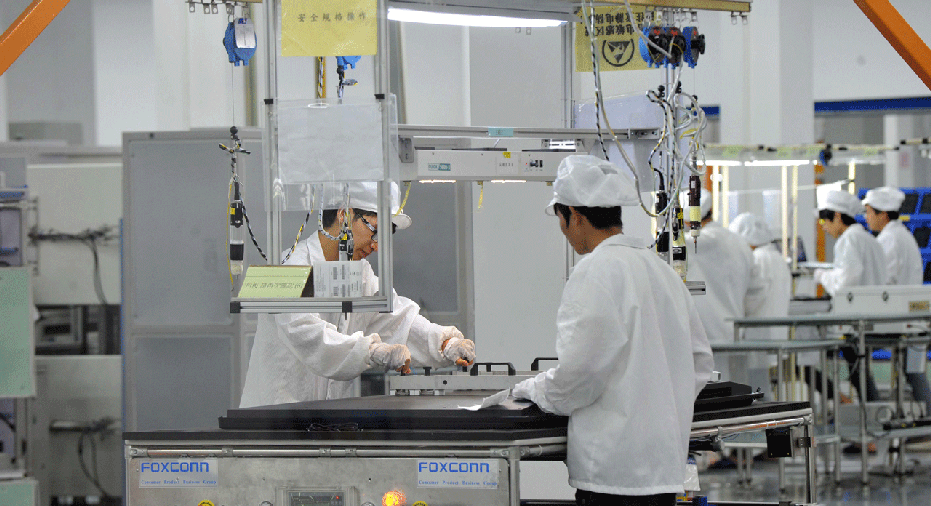 Apple supplier Foxconn announced Wednesday it will build its first U.S. factory in Wisconsin and now the Rust Belt state will have to quickly fill thousands of highly skilled technology jobs at the new electronics plant.
"This will not be your grandfather's factory," said Tom Still, president of the Wisconsin Technology Council. "This will be a high-tech facility that will attract workers of various skill levels to produce products that will really define where the economy is going to go for years to come."
Foxconn will make an initial investment of $10 billion to create its new manufacturing facility in the U.S. The project could generate as many as 13,000 direct jobs, according to Gov. Scott Walker (R-Wis.), and the starting salary for those positions will be $53,000 plus benefits. The Foxconn plant could also potentially create 22,000 indirect positions within Wisconsin.
It would be a substantial gain for a state that currently has 472,000 manufacturing jobs and is still recovering from factory layoffs — including the closure of a General Motors plant after the 2008 financial crisis.
The Taiwanese manufacturing giant, which will produce LCD panels at its pending 20 million square foot Wisconsin plant, has still not said what type of jobs it will offer. But the indicated starting salary suggests some of the higher-end positions will be engineers, software developers and people proficient in computer-assisted design, Still said.
Economists elsewhere note highly skilled postings aren't always easy to fill.
"For an indicator I would look at Michigan. There's lots of workers in Michigan and there's lots of advanced manufacturing jobs in Michigan, and most of them are difficult to fill," said Stefanie Lenway, dean of the Opus College of Business at the University of St. Thomas in Minneapolis.
Still said worker shortages for higher-skilled jobs are common around the country and it's a challenge that Foxconn could've faced with any of the other states it was considering — Michigan, Illinois, Indiana, Ohio, Pennsylvania and Texas.
But Wisconsin officials say the state's higher education system is capable of producing enough employees by the time the plant opens in 2020. However, it's a process that needs to start now.
Wisconsin Republican Gov. Scott Walker said part of wooing Foxconn to Wisconsin included meetings with chancellors from the University of Wisconsin-Madison and UW-Milwaukee and the president of Gateway Technical College to talk about training opportunities so graduates would be prepared to work at the plant.
"For something of this magnitude we're going to have to quite literally start training people now for jobs that will be open over the next couple of years," Walker said Thursday during Thursday interview on WTMJ-AM. "We're going to start doing programs specifically targeted towards getting the workforce they're going to need."
The Associated Press contributed to this report.