Wisconsin Lawmakers Agree to Advance Budget Debate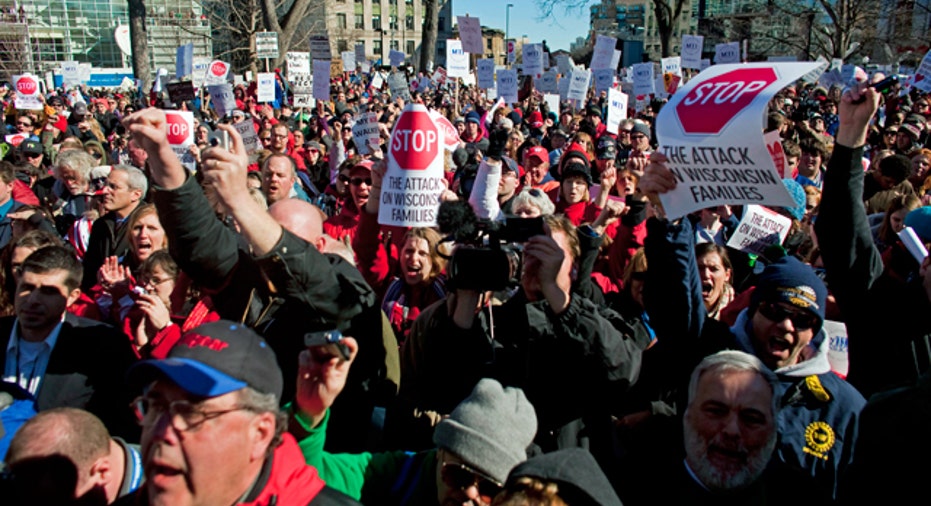 Democratic lawmakers in the Wisconsin state Assembly agreed on Thursday with Republicans to limit their amendments on a controversial budget bill that would curtail union bargaining rights, making a vote likely on the measure later in the day.
Assembly Democrats have agreed with Republicans to limit the number of amendments they'll introduce to 38, and they will stay within the 10-minute limit for arguing each amendment.
The budget proposal by newly elected Governor Scott Walker would strip most collective bargaining rights from many state workers. Walker said it is necessary to close a budget deficit of $137 million for this fiscal year.
Shortly after the 6 a.m. agreement was reached, the state Senate also convened for a call of the house and to direct law enforcement to go to the homes of 14 missing Democratic senators in an effort to bring them back.
All 14 fled the state last Thursday to deny a quorum for voting on the budget proposal, effectively blocking any chance for the bill's passage through the legislature.
Majority Leader Scott Fitzgerald has acknowledged that law enforcement cannot force lawmakers to return to the Capitol, according to website Wispolitics.com.
Still, Fitzgerald said on Thursday he hoped the move would compel some Democrats to come to the floor and debate the budget repair bill. He said he was not sure how many Democrats' homes would receive visits or which ones.
"It's a gesture that shows we're still serious and a call of the house should be honored," Fitzgerald said.
Gov. Walker's office released a statement on Thursday saying that the missing Senate Democrats were "jeopardizing the long term fiscal sustainability of Wisconsin's Medicaid program by continuing their vacation in Illinois."
Without passage of budget repair bill, Medicaid programs will run out of funding in mid-May, it said.
"Wisconsin will be forced to issue IOU's for Medicaid expenses, which will start to accrue interest after 30 days," the statement said, saying the program is already facing a $1.8 billion deficit in the 2011-13 period.
"Senate Democrats' refusal to even show up for a vote on a bill that would fix this shortfall is unprecedented," Walker's spokesman Cullen Werwie said. "Their refusal to participate in the democratic process, by casting their vote, could directly hurt those who receive Medicaid related services."
ALL-NIGHTERS
The Assembly agreement came after a second straight all-night session in the state Capitol, about 43 hours after the Assembly took up the proposal on Tuesday.
The measure has generated widespread protests among Wisconsin teachers and other union members. More than 50,000 demonstrators were in the state capital last weekend, and dozens remain camped in the Capitol building.
With 38 more amendments with 10 minutes of debate each, if the members stick to their time line the debate should end just after noon today, according the website Wispolitics.com.
So far, the Assembly has taken up 50 amendments, with the only one passing a Republican-authored amendment from the Joint Finance Committee. All the other amendments were from Democrats, and all those failed on basic party line votes.
Republicans hold a 57-38 majority in the Assembly.
Rep. Mark Pocan, D-Madison, said there are concerns on the minority side with limiting the process."You can't limit democracy. You have to let the process happen," Pocan said.
Wisconsin has become the national focus for a U.S. struggle over efforts to roll back pay, benefits and bargaining rights of government workers. If the majority Republicans prevail, several other states could be buoyed in efforts to take on the powerful public unions.
If the measure passes the Assembly, it still faces a stiff challenge in the state senate.
U.S. state and local governments are struggling to balance budgets after the recession decimated their finances. Other states like Texas, Arizona and Ohio are relying mainly on cuts in spending, while Minnesota and Illinois are raising taxes.
The changes sought by Walker in Wisconsin would make state workers contribute more to health insurance and pensions, end government collection of union dues, let workers opt out of unions and require unions to hold recertification votes every year. Collective bargaining would be allowed only on wage increases up to the rate of inflation.
Walker wants the bill passed by Friday as part of a plan to push principal payments on general obligation bonds into future years to save $165 million. Under that plan, the bill must be passed by Friday to allow time to sell the debt.