Will Sen. Jeff Sessions Break From Trump Pack on AT&T-Time Warner $85B Deal?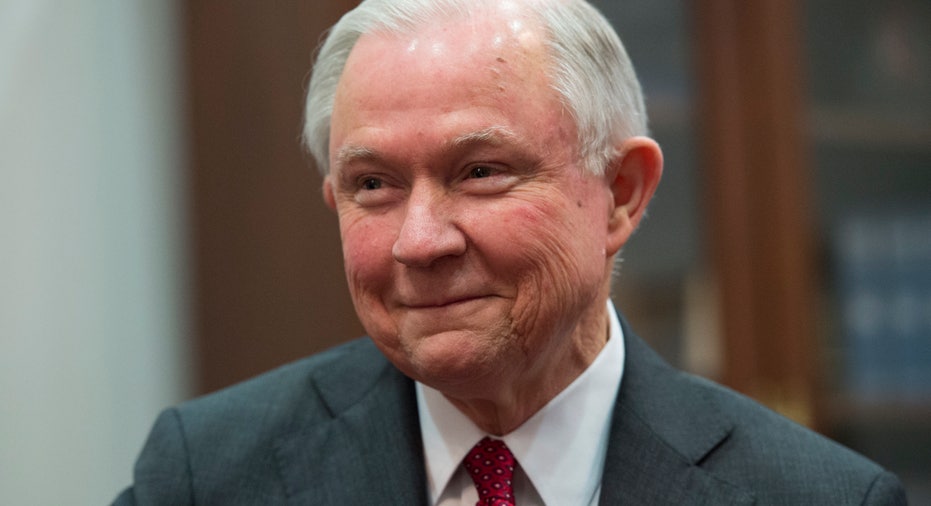 A growing list of advisers to president-elect Donald Trump are lining up to oppose the AT&T (NYSE:T) Time Warner (NYSE:TWX), mega-merger, but one of his key lieutenants may not be following the party line, the FOX Business Network has learned.
Senator Jeff Sessions (R-AL), who Trump tapped to be the next U.S. Attorney General, was asked during his confirmation hearing Tuesday how he as attorney general would approach his task as a regulator of anti-trust concerns that often arise from such blockbuster deals.
Though the AT&T-Time Warner merger wasn't mentioned by name, its presence loomed large during this brief part of Session's confirmation hearing before the Senate Judiciary Committee since Trump, himself, said during the campaign he would try and block the deal if elected president. The president-elect often feuded with Time Warner's CNN news subsidiary, and some on Wall Street viewed his comments about blocking the deal as payback for the cable news channel's reporting.
But Sessions suggested that issues such as CNN's coverage of Trump should not be taken into account when weighing whether mergers pose anti-trust issues, stating it would be "wrong to further some other separate discreet agenda that's not reasonably connected to the merger itself" he said.
The $85 billion merger announced in October, would create one of the largest communications companies in modern history. Content from Time Warner, which includes CNN and premium television channel HBO, would be funneled through AT&T's massive distribution apparatus.
Trump has said the deal represented "too much concentration of power in the hands of too few," and vowed to block it if he was elected president. Though Trump hasn't mentioned the deal since he won the election, as FOX Business has reported, he has instructed his advisers to provide a list of reasons why he should oppose the merger.
If confirmed as AG, Sessions will have to decide whether the huge media merger should pass regulatory muster; he would manage the U.S. Department of Justice's powerful anti-trust division, which rules on whether such corporate matchmaking represents a monopoly on services and would consequently cause consumers to face steep price hikes without being able to turn to more low cost competitors.
Both AT&T and Time Warner say the deal should be approved because the media landscape is rapidly changing. AT&T's cable and wireless distribution already faces stiff competition from other large distribution players that also have arms producing content such as Comcast (NASDAQ:CMCSA) and Verizon (NYSE:VZ) which is in the process of acquiring Yahoo (NASDAQ:YHOO) for $4.8 billion.
As FOX Business reported earlier this week, among those in the Trump camp who are said to be urging their boss to block the merger are senior adviser Steve Bannon, chief of staff Reince Priebus, and as FOX Business also reported, recently appointed White House adviser Jared Kushner.
Shares of Time Warner declined after the FOX Business report—an indication that traders increasingly believe the deal won't go through.
But Sessions, at least during the Tuesday confirmation hearing, suggested that the deal isn't automatically DOA when questioned by Senate Judiciary Committee member, Mike Lee (R-UT).
"It is my view that there is a temptation for antitrust regulators sometimes to impose conditions that don't involve anti-competitive concerns and that raises some red flags…Do you agree with that?" asked Lee.
Sessions said: "The law is not crystal clear about what's lawful and what's not lawful and what the antitrust division is required to do and it leave dangers, if not politicization of it, it remains dangers of policy agendas getting embroiled in it."
A Trump spokeswoman didn't return a telephone call to comment on Session's answer.