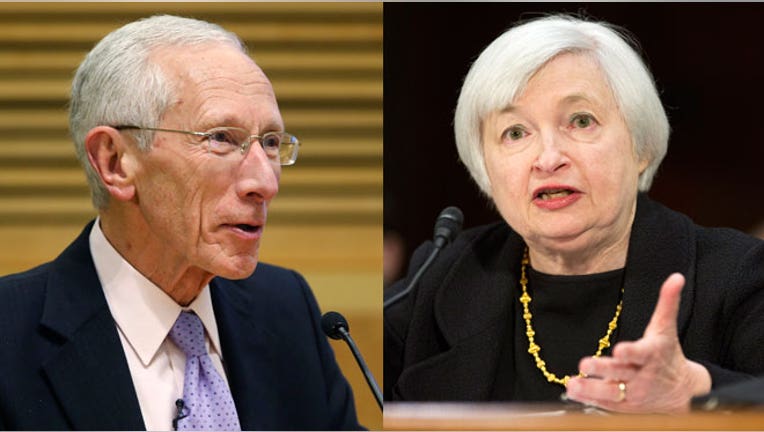 Stanley Fischer could soon be the only person ever nominated as vice chairman of the Federal Reserve who is actually overqualified.
His resume is impressive, to say the least: former chief of the Bank of Israel, ex-official at both the International Monetary Fund and the World Bank and a key confident of European Central Bank President Mario Draghi and current Fed Chair Ben Bernanke, who recently called him a "role model."
In fact, Fischer himself was reportedly a long-shot candidate to take over for Bernanke at the Fed.
All of this raises the question: Could a policy heavyweight and central bank superstar like Fischer actually overshadow incoming Fed chief Janet Yellen?
"I do think that's a risk they should be concerned about," said Drew Matus, an economist at UBS (NYSE:UBS). "You're putting in someone who truly could step into the top job at a moment's notice. He's as well-known as Janet Yellen and that might complicate people's perceptions."
"He's got stature with the markets and people around the world that I think will be an asset."
Signs that Fischer has agreed to be Yellen's No. 2 have been greeted mostly positively by Fed watchers and market participants alike. It shows Yellen is comfortable working with another high-powered policymaker and strengthens the debate over future Fed action.
But Fischer's nomination could also create problems down the line as Fed officials debate the delicate task of unwinding quantitative easing.
"What if they disagreed on policy and Yellen went one way and Fischer went the other? Which way would the market go?" Matus asked.
Nicholas Colas, chief market strategist at ConvergEx, said "any visible public disagreement at the Fed would cause the market concern" and make it appear that "Janet Yellen is not starting her tenure with a cohesive policy."
'Wonderful Addition to the Family'
People who have worked with Yellen and Fischer believe these concerns are overblown. Both have a track record for working to build consensus in a collegial manner (read: not Larry Summers).
"He's been a No.1 and a No. 2. He knows how to handle himself," said Edwin Truman, who has known both Fischer and Yellen for more than 25 years. "As long as the place runs in a collegial way there will be no problem. I'm sure he will be a wonderful addition to the family."
Jeffrey Shafer, who helped recruit Fischer to Citigroup (NYSE:C) last decade, said he doesn't believe appointing Fischer "undercuts the choice" of Yellen at all.
"I'm sure they would not have done this without her blessing. I think it says something about Janet that she is comfortable with someone on her team with his eminence. I think they will get along and make a very good team," said Shafer, who previously worked at the Fed and the Treasury Department.
From a philosophical perspective, Fischer and Yellen have far more to agree on than not.
They have both been supporters of the Fed's controversial $85 billion bond buying exercise and super low interest rates. In fact, Fischer oversaw a QE program of his own at the Bank of Israel.
"We see little daylight between Fischer and the current core FOMC leadership with respect to their basic paradigm for thinking about the economy," Goldman Sachs (NYSE:GS) economists Jon Hatzius and Kris Dawsey wrote in a note to clients this week.
Forward Guidance Fight?
In a lecture, Fischer said the QE experiment shows that "there is a lot that the central bank can do to run an expansionary monetary policy even when it has cut" rates essentially to zero. He said asset purchases "increase liquidity" and longer-term asset purchases, such as in QE2, may help central banks boost private sector demand for long-term assets like mortgages and corporate investment.
One possible area of contention could be over forward guidance, for which Fischer recently expressed some skepticism. "If you give too much forward guidance you do take away flexibility," Fischer said in September. "We don't know what we'll be doing a year from now. It's a mistake to try and get too precise."
While Fischer is skeptical about calendar-based forward guidance, Yellen has been one of its biggest proponents. As the Fed begins to dial back QE, it is expected to lean heavily on forward guidance, which indicates the expected path of monetary policy in the future.
Still, this isn't seen as a major stumbling block for the likely new Fed leadership.
"We have little doubt that Yellen and Fischer would see eye to eye on the need to prevent a large tightening of financial conditions anytime soon, so the slightly greater uncertainty that might result from his nomination is mainly about tactics, not strategy," Hatzius and Dawsey wrote.
Making the Fed More Democratic?
Adding Fischer to the Fed would seemingly only enhance the central bank's reputation, especially overseas where the former Israeli central banker carries great weight.
"He's got stature with the markets and people around the world that I think will be an asset," said Shafer.
Fischer's appointment has yet to be announced by the White House and he would still need to be approved by the Senate.
While relations in Congress have improved dramatically in recent weeks (see: budget compromise), Matus wondered whether some lawmakers will object.
"It's a very senior government appointment in the United States and he's a dual citizen. I don't know how that will fly," said Matus.
Goldman said it's "very likely" Fischer would be confirmed, noting the recent change in Senate rules means he would only need a simple majority.
Colas sees another benefit in adding someone of Fischer's status to the Fed to sit alongside the equally well-respected Yellen.
"It does make the Federal Reserve look a little more democratic. At least you have the optics of real debate and not autocratic" rule like under former Fed chiefs Alan Greenspan and Paul Volcker, said Colas.
"This might make it more complex (for the markets), but I think it does make it look more consistent with American values," said Colas.