Will China Riots Send Manufacturers Packing?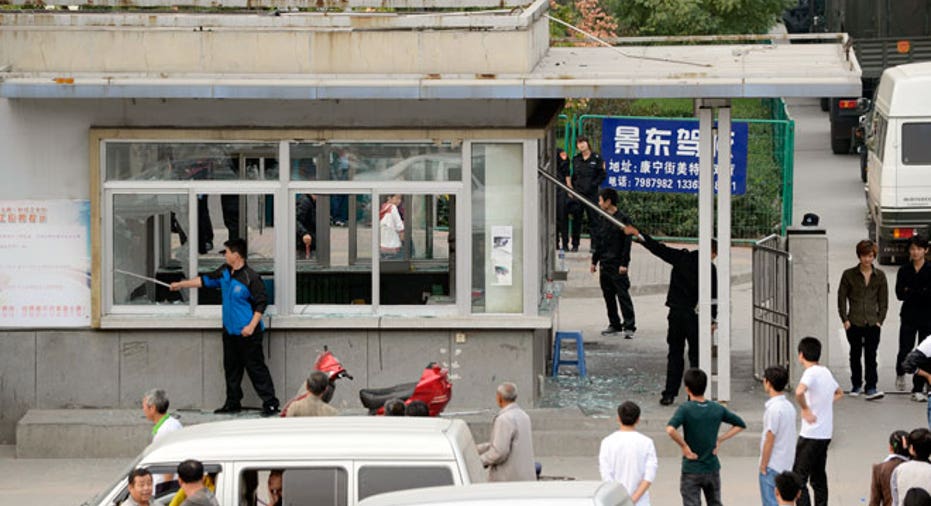 China has long been a desired destination among the world's biggest multinationals looking to fill labor-intensive positions on the cheap. But recent riots there may have some foreign manufacturers thinking about moving production closer to home.
From Apple's (NASDAQ:AAPL) biggest iPhone manufacturer, Foxconn, which employs tens of thousands of people in China, to Toyota (NYSE:TM) and Caterpillar (NYSE:CAT), manufacturers have long taken advantage of China's low-cost labor, solid infrastructure and softer regulations.
But calls for better wages and working conditions have been growing louder in China over the last decade, recently exploding in a 2,000-person fight at Foxconn just days after the new iPhone 5 began selling in the U.S.
And after years of relative peacefulness, disputes between China and Japan ramped up earlier this month, showing once again that China is not immune to social and economic strife.
"Wages alone won't be determinative," said Marshall Meyer, a professor and China expert at the University of Pennsylvania's Wharton School. "Short term the concern is social and political stability."
The recent socioeconomic problems in China come as the government undergoes a once-a-decade transition, which has brought political upheaval and distracted the incoming Communist Party. The two-week disappearing act by China's president-in-waiting Xi Jinping earlier this month and doubts over the accuracy of the country's economic data have also highlighted the uncertainty that comes when companies conduct business in China.
Manufacturers may not have reached their tipping point yet, but the latest news out of the region, coupled with ongoing labor issues and rising wages, is further chipping away at their confidence.   "The combination of increased costs and unrest of labor force at some point will shift the collective wisdom," Meyer said.
For U.S. companies, outside factors that are tainting China's reliable reputation may be prompting some to rethink where they produce certain goods meant for sale in North America.
China is still expected to be about 7% cheaper for producing than the U.S. by 2015, according to Boston Consulting Group data, however that margin is slimmer when U.S. companies are also accounting for supply chain and shipping costs.
"The reality is manufacturers are under a lot of pressure to keep costs down," said Harold Sirkin, a BCG senior partner. "Companies are looking at the economics, saying, 'At what point does it makes sense to move away from China?'"
BCG experts have estimated that over the next four years manufactures in certain sectors like auto parts, electrical equipment and household appliances will reach a point where the shrinking cost advantage of China pressures them to relocate. Labor expenses in China have been increasing at a rate of about 15% to 20% a year (of course, they started at just 58 cents an hour 10 years ago).
Costs aside, the latest social instability highlights yet another risk that may or may not grow over time, and it has already caused Japanese manufacturers to back away from their neighbor's bustling market.
"If there's going to be social unrest, either related to the conditions in factories, or if the government can't enunciate clear policies and the domestic political uncertainty plays out in anti-Japanese unrest, businesses are going to be reluctant to make long-term commitments in China," Meyer said.
The anti-Japan protests, which began after the island nation purchased a natural resources-rich island located in the East China Sea, have been called the worst since 1972. Rioters have undergone a wide-range of protests over the last few weeks, from ransacking Japanese manufacturing plants to shattering windows of Japanese-made cars.
From Nissan to Sharp and Panasonic, automakers, consumer electronics companies and other Japanese brands have temporarily shut operations in China amid the uprisings. And hurt by a dent in Chinese sales, some, including Toyota and Honda (NYSE:HMC), are now even said to be preparing to close certain Chinese facilities next month.
Toyota's sales have fallen 30% there since the protests began, according to reports. Neither Toyota nor Honda immediately returned requests for a comment.
Despite those companies' imminent flight from China, many observers still have their doubts that the current social, political and economic instability in China will be enough to really send foreign companies packing their bags. They argue instead that the benefits of producing in China still far outweigh the negatives.
"Strikes do not deter capital from coming," said Anita Chan, a professor with the University of Technology Sydney's China Research Centre. "It has more to do with the level of wage that is needed to be paid out and efficiency of the host country."
While wage protests have been ongoing in Vietnam for the last six years, foreign investments continue to pour in, she said. And that may only prove more likely in China, which has an even more developed infrastructure and a more educated population.
To be fair, the labor disputes in China have been largely centered on Foxconn, which is infamous for borderline inhumane working conditions, and Nick Lardy, senior fellow at the Peterson Institute for International Economics, said he doesn't think the majority of foreign manufactures are having similar problems.
Lardy agreed that some Japanese manufactures may start to scale back and that certain types of labor-intensive manufacturing such as sneaker production may move outside of China, but he said the broader discussion about rising wages has been "a vastly overstated story."
Overall, he said, China is still viewed as a "very stable place."