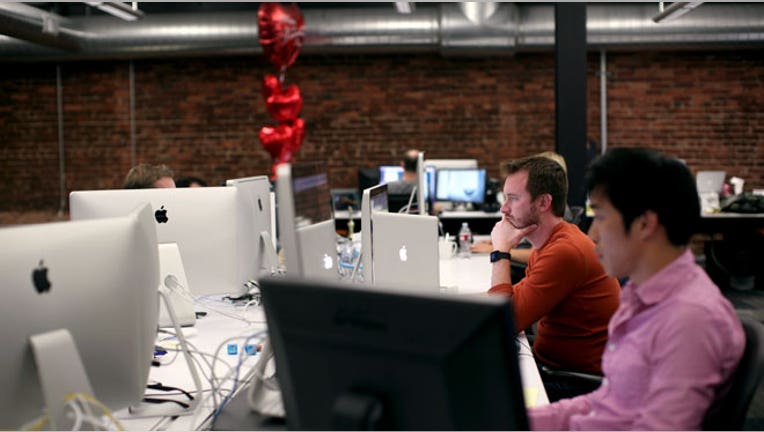 U.S. workers will almost certainly start seeing bigger paychecks in the second half of 2015.
Virtually all of the recent economic data suggests as much and the across-the-board pay hike is expected to go a long way toward stabilizing once and for all the long and arduous recovery from the 2008 financial crisis.
"Lack of wage growth has been the missing ingredient in the economic recovery," said Greg McBride, chief financial analyst at Bankrate.com.
Despite strong job creation during the past 12 months and a rapidly declining unemployment rate, wages haven't followed suit, a disparity that has vexed economists. Basic economics suggests that if the unemployment rate is falling and hundreds of thousands of jobs are being created each month, wages would move higher to keep pace with the labor market momentum.
But that hasn't been the case.
The gap between job growth and workers' wage growth has frequently been blamed on "excessive slack" in the labor market. Now that slack is finally tightening.
The Labor Department reported earlier this week that the number of job openings at the end of April stood at 5.4 million, the largest number since the government started keeping track in late 2000.
Hiring fell to 5 million in April down from 5.1 a month earlier, a drop economists said occurred because employers are having difficulty finding the qualified workers they are seeking.
McBride said the recent strong labor market data is "further evidence of tightening slack in the labor market and another log on the fire in the long-awaited growth in household income."
Rising household income could provide an important and sustained lift for the economy if consumers take their higher wages out to the malls and shopping centers and spend some of their hard earned money.
For the past seven years, ever since the U.S. housing bubble burst, dramatically reducing the value of millions of American homes, many consumers have been living on a shoe-string budget, fearful for their jobs and desperately trying to dig themselves out of debt.
But home prices have risen in many areas of the country and now wages appear to be heading in the same direction.
"Consumers have been living on very tight household budgets," said McBride, "and they can't ramp up spending or saving until they see wages grow in a meaningful way."
In May the economy added 280,000 new jobs, more than had been anticipated, and the unemployment rate ticked higher to 5.5% from 5.4% a month earlier. The higher unemployment rate is actually a positive development because it means more people were counted in the government's survey because they began looking for work again, a clear sign that good jobs are becoming more plentiful.
Equally important was that wages in May rose by 2.3% from a year earlier, still well below the 3% rate preferred by the Federal Reserve but higher than the 12-month inflation rate of 1.7%.
While the 2.3% year-over-year wage increase was "nothing to write home about," according to McBride, "it's above the rate of inflation so it translates into actual buying power." In other words, U.S. workers saw their wages grow slightly more than prices rose in the past year, which put a bit more money in their pockets.
Now with jobs become more available that trend is expected to continue and broaden through the rest of 2015 and into next year.