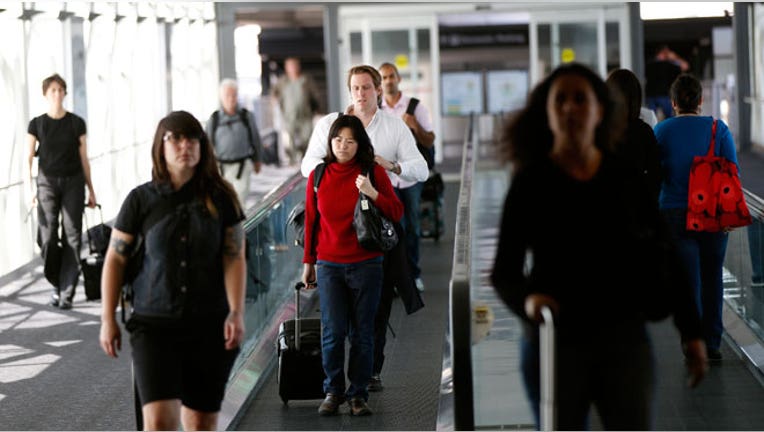 The White House accused business travelers of "bellyaching" over flight delays caused this week by furloughs at the Federal Aviation Administration, suggesting Congress was prioritizing them over other fliers.
The House passed a bill early Friday afternoon to give the Transportation Department budget flexibility to limit furloughs for air-traffic controllers. The legislation was approved by the Senate on Thursday night, and the White House has indicated President Barack Obama will sign it.
The FAA, which is administered by the Transportation Department, has said furloughs could not be avoided under the government spending cuts that kicked in last month. Lawmakers countered by saying the agency could find other areas, such as consulting and grant programs, to make cuts.
During a briefing at the White House, Press Secretary Jay Carney said Congress acted on the plan out of self-interest and to quell complaints from business travelers.
"How is it fair these kids on Head Start get cuts, Defense Department cuts get tough love, but when business travelers [are] bellyaching, they get fast legislation," Carney told reporters.
"You could've thrown in members of Congress who need flights home, also," he added. "Delays are not just a problem for business travelers but many Americans."
Rep. Bill Shuster, a Pennsylvania Republican who is Chairman of the House Committee on Transportation and Infrastructure, said the legislation passed Friday would "force a stop to these needless furloughs."
"Although the FAA already had the necessary flexibility to implement the sequester in a responsible manner, this legislation ensures beyond a shadow of a doubt that the agency now has more than enough capacity to end air traffic controller furloughs, stop the pain for the traveling public, and protect the economy," Rep. Shuster said in a statement.