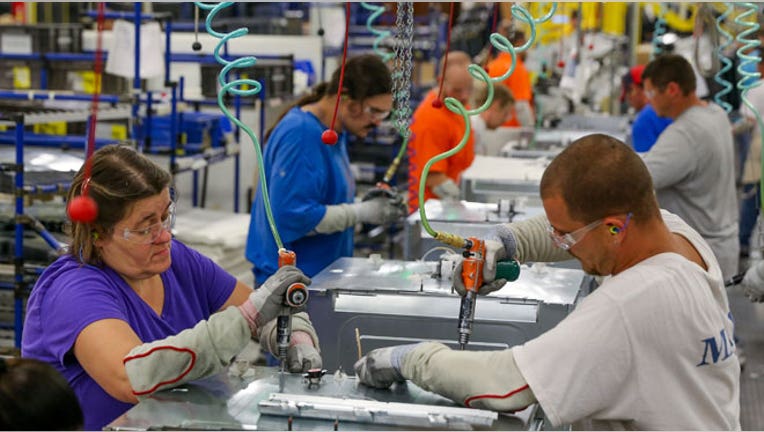 The U.S. has been adding jobs at a healthy pace for months now. Yet American workers are undoubtedly wondering when the tightening job market will result in higher wages.
That labor market dissonance will be scrutinized again on Friday when the U.S. Labor Department releases the December jobs report.
Analysts are predicting another strong month of job creation, likely the 11th consecutive month with a gain of over 200,000 jobs. In November the U.S. added 321,000 new jobs and gains were "widespread," according to a statement released by the Labor Department. The unemployment rate held steady at 5.8%.
Even before the strong gains reported in November the U.S. was averaging 224,000 new jobs per month during the previous 12 months. But all those new jobs, as well as the rapidly falling headline unemployment rate, have yet to translate into higher wages and bigger paychecks for most American workers.
"So far in this expansion wage growth has been very tame, with average hourly earnings of production and non-supervisory workers rising just 2.2% year-over-year in November," said David Kelly, chief global strategist at J.P. Morgan Funds.
But Kelly cited recent data from the Conference Board which revealed that American workers' view of the job market was more positive in December than at any time since the start of the 2008 financial crisis, a mood that suggests "employers may now be facing more forceful demands for higher compensation," according to Kelly.
Stubborn Labor Market Slack
In other words, if American workers believe there are enough good job openings out there that they can freely leave one job for another, employers will eventually be forced to pay higher wages if they hope to attract and/or retain qualified workers.
Moreover, when workers make more money they spend more money, which generates demand for goods and drives prices higher. When that dynamic is balanced it's a reflection of a healthy economy.
That hasn't been the case in the five and a half years since the end of the Great Recession.
Fed Chair Janet Yellen has frequently highlighted wage growth as an indicator the Fed is watching for signs that labor markets are strengthening beyond the declining headline unemployment rate.
In a nutshell, the stubborn labor market slack so often referred to by Yellen is a result of companies that were forced downsized during the recession now trying to do more with fewer workers. That has resulted in millions of Americans returning to the workforce either in part-time or temporary positions.
Because many of those workers would prefer the higher salaries and benefits that come with full-time positions competition among workers for those full-time jobs has been stiff, which has allowed employers to keep wages low.
Economists – in particular those at the Fed – are predicting that will change as the job market continues to tighten and employers are forced to compete with one another for qualified workers. As competition among employers gets stronger wages will inevitably rise, according to that theory.
Plunging Oil Prices
Higher wages are important to central bankers because the Fed is under increasing pressure to start raising interest rates back to levels that preceded the 2008 financial crisis, essentially a level that suggest the U.S. economy is returning to normal.
But the Fed has said it won't start raising interest rates until it achieves its dual mandate of full employment and price stability, which the central bank defines respectively as an unemployment rate of 5.2%-5.6% and inflation at 1.7%-2%.
While the unemployment rate should reach the Fed's target in early 2015, the inflation rate has proven trickier, running well below the Fed's 2% target for months. Stagnant wages caused by labor market slack has been the primary cause of low inflation, a situation exacerbated in late 2014 by plunging oil prices which drove down the price of gasoline and put added downward pressure on inflation.
The Fed has written off the decline in energy prices as a temporary situation and central bank economists continue to predict that wages will climb through the first half of 2015, pushing inflation up to 2% by mid-year. Just in time for a July interest rate hike, the first in over six years.