Week Ahead: The Fiscal Cliff and a Jobs Report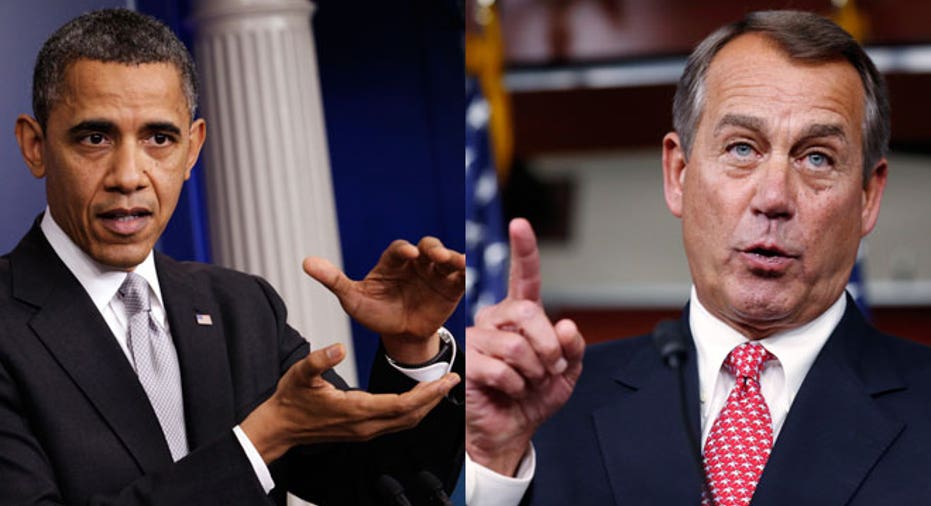 The focus will remain squarely on Washington, D.C., next week as politicians seek a budget deal that would end the threat of massive spending cuts and tax hikes tied to the fiscal cliff.
Besides the ongoing fiscal cliff negotiations, economic data set for release next week includes a December jobs reports, monthly car sales, and a handful of manufacturing reports.
U.S. markets are closed on Tuesday for the New Year's holiday.
Even if President Obama and Congressional leaders announce a deal on Friday to avert the cliff, that deal will have to be approved by Congress before the Jan. 1 deadline. That's a tall order given the legislative logistics required.
The House of Representatives is scheduled to meet on Sunday night but no deal seemed imminent late Friday as Obama met with Republican and Democratic leaders from both the House and Senate.
A deal would avert an estimated $600 billion in tax hikes and spending cuts economists agree will likely push the U.S. back into recession. But getting a hastily-cobbled deal through both the House and the Senate by the Tuesday deadline will be difficult if not impossible.
Democrats, led by Obama, are calling for tax hikes on the wealthiest Americans but resisting spending cuts to popular entitlements such as Social Security and Medicare. A core group of Republicans opposes any new taxes at all, scuttling opportunities for a compromise.
The December jobs report due Friday is expected to continue the recent trend of slow recovery. Economist are forecasting 160,000 new jobs, just enough to keep the unemployment rate at 7.7%, the lowest level in four years.
December car sales are out Wednesday and the numbers could be higher due to damage to cars sustained in November during Hurricane Sandy.
The minutes of the Federal Reserve's December meeting are out on Wednesday and the notes should provide background on the Fed's decision to continue its policy of buying Treasuries in an effort to keep interest rates low.
Manufacturing data out next week includes the Dallas Fed's Manufacturing Survey on Monday; the Purchasing Managers Manufacturing Index and the ISM Manufacturing Index, both on Wednesday; and a report on factory orders due Friday.