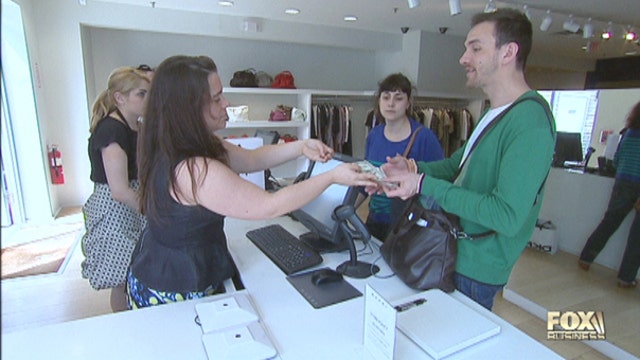 Retail sales and two inflation gauges will take center stage in a relatively light week for economic data next week.
Investors will be keeping a close eye on February retail sales when they're released on Wednesday. Conventional wisdom holds that the numbers could be held down by a 2% payroll tax hike that took effect January 1, costing many Americans a few hundred dollars a month out of their paychecks.
Some economists believed the real impact of the tax hike would not be felt until February because it probably took many consumers a few weeks before they realized the extra money was being deducted from their paychecks.
On Thursday and Friday respectively come the producer price index and the consumer price index. The former measures prices paid by manufacturers for goods used to make goods. The latter is the price paid by consumers for goods already manufactured. Both are important gauges of inflation.
The Fed has said it won't consider tightening its loose fiscal policies until inflation hits 2.5% and the figure, which excludes energy and food costs, is nowhere near that mark. But critics of the Fed's programs of low interest rates and extensive bond purchases say the end result is inevitably inflation.
The University of Michigan/Thomson Reuters consumer sentiment survey is due Friday and the numbers might get a boost based on the positive jobs report out this week. In a big surprise to the upside, the Labor Department reported 236,000 new jobs were created in February and the unemployment rate dropped to 7.7% from 7.9%. Those are the kinds of number that boost consumer sentiment.
The National Federation of Independent Business will release its Small Business Optimism index on Tuesday. The NFIB says its members are frustrated by lack of a coherent fiscal policy out of Washington.
Other economic reports next week include the Empire State Manufacturing survey on Friday; and February's industrial production report, also on Friday.
A handful of big retailers release earnings next week, including Dick's Sporting Goods on Monday (NYSE:DKS); Costco (NASDAQ:COST) on Tuesday; Men's Wearhouse (NYSE:MW) on Wednesday; and Krispy Kreme Donuts (NYSE:KKD) on Thursday.