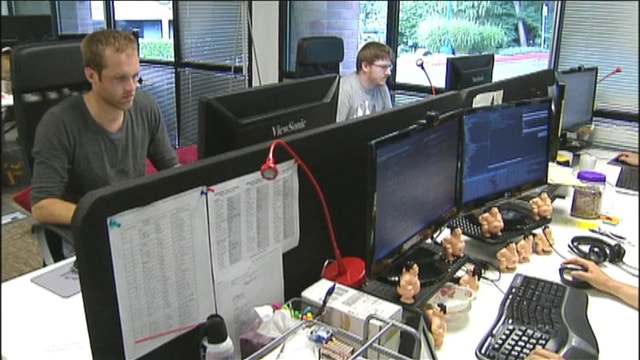 Investors will be intensely focused on the U.S. labor market next week as the July jobs report is out Friday, two days after the Federal Reserve wraps up its two-day meeting.
The Fed has placed the strength (or weakness) of the jobs market at the center of its monetary policy.
Economists are predicting that the U.S. economy added 179,000 jobs in July, fewer than the 195,000 jobs created in June. Employers have added an average of 202,000 jobs per month in the last six months, an improvement over the previous six months, however the unemployment rate remains stubbornly high at 7.6%.
Fed policy makers gather for their July meeting on Tuesday and Wednesday and investors will once again be parsing their announcement for hints as to how long the central bank plans to keep its easy-money spigots open. The Fed will release a statement at 2 p.m. Wednesday.
It remains to be seen how the Fed can be any more clear in its message that its $85 billion a month bond purchase program known as quantitative easing will be scaled back when economic data justifies the move.
Fed Chairman Ben Bernanke has stated repeatedly that bond purchases will only be phased out once the labor market shows signs of sustained strength, something most economists believe won't happen until 2014.
It's likely the Fed's statement Wednesday will reiterate that sentiment, re-emphasizing that Fed policy could shift if the economic data gets stronger or weaker in the coming months. In other words, the July statement shouldn't be markedly different from those released in recent prior months.
One thing Fed watchers may look for is whether dissenters among the Federal Open Markets Committee, which sets most Fed policy, have grown more adamant that quantitative easing should be phased out sooner rather than later or risk the threat of runaway inflation.
Also out next week is the first estimate of second quarter GDP to be released on Wednesday. Growth is expected to have slowed from recent quarters to 1%, dragged down in part by fiscal policy that has included higher taxes and government cutbacks that have taken a bite out consumer spending.
A report on personal income and spending is due Friday.
Meanwhile, second-quarter earnings season continues with releases from a number of bellwether companies, including: Merck (NYSE:MRK), Pfizer (NYSE:PFE), Aetna (NYSE:AET), Martha Stewart Living Omnimedia (NYSE:MSO), NYSE Euronext (NYSE:NYX), Mastercard (NYSE:MA), Comcast (NASDAQ:CMCSA), ExxonMobil (NYSE:XOM), Chevron (NYSE:CVX), Proctor & Gamble (NYSE:PG) and Kraft Foods (NASDAQ:KRFT).