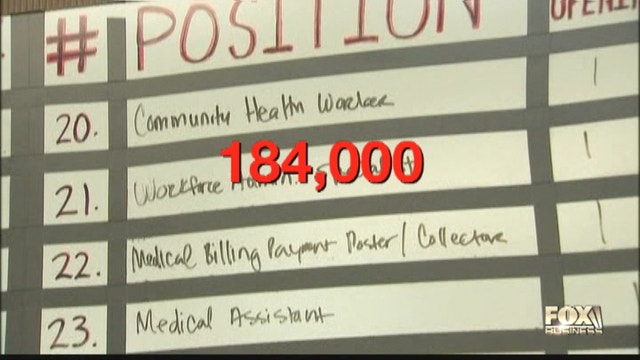 The release of the January jobs report next week may draw attention away from turmoil in emerging markets.
Also on tap is the historic swearing in of Janet Yellen as the first woman to chair the U.S. Federal Reserve,  and a handful of high-profile earnings reports from the likes of Twitter (NYSE:TWTR), General Motors (NYSE:GM) and Merck (NYSE:MRK).
The jobs report, due out Friday, will be closely watched because it comes on the heels of a decidedly weak December report, when far fewer (74,000) jobs were created than had been forecasted (196,000) by economists.
The unemployment rate fell to 6.7% from 7% in the prior month, but the drop was in large part due to hundreds of thousands of people leaving the workforce.
The January report is expected to show 184,000 new jobs and the rate to hold steady at 6.7%
The December report has been dismissed by most analysts -- and the Federal Reserve -- as an anomaly caused by extreme weather across much of the country. If the January report is disappointing as well it will be harder to dismiss the earlier numbers and may force Fed policy makers to rethink their plan to gradually reduce economic stimulus.
On Wednesday the Fed announced plans to continue tapering its monthly bond purchases by $10 billion each month, conceding that labor indicators were "mixed" but generally healthy.
Yellen on Monday will replace Ben Bernanke at the helm of the most powerful central bank in the world. Having served for years as Bernanke's number two, she is not expected to stray far from Bernanke's accommodative policies. And she has indicated as much in Congressional testimony and interviews.
Also on tap for release next week are reports on construction spending, motor vehicle sales and the ISM Manufacturing Index on Monday; factory orders on Tuesday; and data on international trade and chain store sales on Thursday.
Earnings season is winding down, but a number of bellwether companies are reporting, including: Yum! Brands (NYSE:YUM) on Monday; Archer-Daniels Midland (NYSE:ADM), Becton Dickinson (NYSE:BDX), CME Group (NASDAQ:CME), and Gannett (NYSE:GCI) on Tuesday; Allstate (NYSE:ALL), Merck, Nasdaq OMX Group (NASDAQ:NDAQ), Time Warner (NYSE:TWX), Twitter and Walt Disney (NYSE:DIS) on Wednesday; and Aetna (NYSE:AET), Dunkin Brands (NASDAQ:DNKN), General Motors, LinkedIn (NYSE:LNKD), News Corp. (NASDAQ:NWSA) and the New York Times (NYSE:NYT) on Thursday.