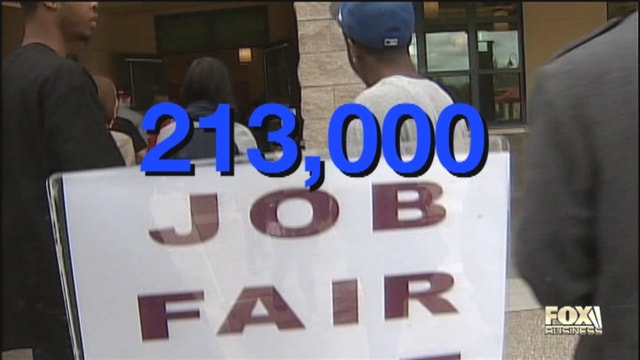 The April jobs report, a statement by the Federal Reserve on future monetary policy and many more earnings reports -- including a batch from some of the world's largest drug makers -- highlight a very busy week for economic data.
The monthly jobs report is out Friday and the question is whether the labor market can sustain the growth hinted at in the March report, when 192,000 jobs were added and the two previous months' figures were revised upward by a total of 37,000.
The unemployment rate was unchanged in March at 6.7%.
The warmer spring weather is widely expected to have improved hiring conditions, and the number of jobs added in April could plausibly exceed 200,000, for months the monthly figure analysts have insisted is needed to push the unemployment rate lower. Severe storms and bitter cold weather suppressed hiring in January and February.
The Fed's policy setting Federal Open Market Committee meets Tuesday and Wednesday and will release a statement at 2 p.m. Wednesday announcing any new forward guidance or policies.
The central bank will almost certainly continue tapering its monthly bond purchases by $10 billion, cutting the amount to $45 billion per month. In addition, the Fed is likely to reiterate its position that interest rates will remain at their historically low levels until well after the bond purchasing program is phased out later this year.
No major policy shifts are expected at the meeting.
Housing data due next week include a report on pending home sales on Monday and the S&P Case-Shiller Home Price Index on Tuesday. Other important reports due next week are consumer confidence on Tuesday, a reading on gross domestic product on Wednesday and motor vehicle sales on Thursday.
Fed Chair Janet Yellen is scheduled to give a speech on Thursday.
Meanwhile, the earnings schedule remains busy. Controversial multi-level marketing company Herbalife (NYSE:HLF) reports on Monday and investors will be looking for any mention of the investigations launched into the company as investor activist Bill Ackman continues his assault on the company's business practices.
Tuesday's earnings calendar is peppered with huge drug companies, including Bristol-Myers Squibb (NYSE:BMY), Merck (NYSE:MRK) and Sanofi (NYSE:SNY). Also due Tuesday are eBay (NASDAQ:EBAY) and Twitter (NYSE:TWTR). Wednesday will see reports from Actavis (NYSE:ACT), Hess Corp. (NYSE:HES), MetLife (NYSE:MET) and Time Warner (NYSE:TWX). Thursday ConocoPhillips (NYSE:COP), ExxonMobil (NYSE:XOM), Kraft Foods (NASDAQ:KRFT), LinkedIn (NYSE:LNKD) and Viacom (NASDAQ:VIAB) and Mastercard (NYSE:MA).
Friday, Chevron (NYSE:CVX) and CVS Corp. (NYSE:CVS) report.