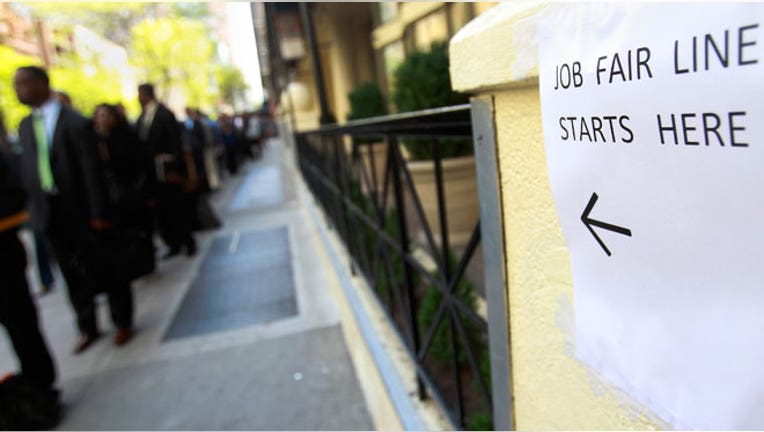 The big question concerning the April employment numbers out later this week is was last month's disappointing report an anomaly or has the labor market hit the same snag as the rest of the U.S. economy.
The Labor Department will release the April jobs report on Friday and economists, analysts and investors will be looking for a rebound from March when a meager 126,000 new jobs were created, far below expectations, and the unemployment rate held steady at 5.5%.
Frank Friedman, chief operating and chief financial officer at business consulting giant Deloitte LLP, said business leaders are looking for signs of longer-term trends by culling numbers from a handful of industries that serve as bellwethers for the broader economy.
Hiring in mining and oil extraction, for instance, has fallen off in recent months as the price of oil plummeted earlier this year, curbing profits for companies in the sprawling energy sector.
"If mining and oil extraction continue to go down it's probably not a good sign for business investment," Friedman said. "If business investment in those areas goes down it's bad for hiring. A lot of things trigger off energy in this country."
Temporary Factors
Construction and manufacturing are two other sectors being eyed for improvement, construction in particular because it's so closely tied to the all-important housing sector, an area of the economy that has lagged throughout the six-year, roller coaster recovery from the 2008 financial crisis.
Most economists believe the March numbers were impacted by a handful of temporary factors, including another unusually harsh winter and a West Coast dock strike that caused significant disruptions in U.S. supply chains. A surging U.S. dollar that cut into exports and the decline in oil prices also played a role in the disappointing March report.
But the weather has warmed up and the dock strike is over.
"Recently low levels of unemployment claims and signs of some weather effects in the March numbers suggest a bounce-back to a 200,000-plus job gain for the month," said David Kelly, chief global strategist at J.P. Morgan Funds. "We also believe that the unemployment rate could fall further to 5.4%, and that wage growth could pick up to 0.3% for the month, providing some confirmation of the trend seen in last week's employment cost index numbers."
Policy makers at the Federal Reserve will be watching Friday's jobs report closely for signs of underlying strength, especially in the area of average hourly wages. Months of wage stagnation has played a significant role in keeping inflation below the Fed's 2% target rate.
The Fed is preparing to raise interest rates for the first time in nearly a decade, having lowered them to their current near-zero range in December 2008 at the height of the financial crisis. But they have vowed not to do so until they are convinced the economy is moving toward the Fed's dual mandate of full employment and price stability, defined respectively as an unemployment rate of 5.2%-5.6% and inflation at about 2%.
The unemployment rate has reached that target range but inflation has proven more problematic.
Earlier this year, as the labor market hummed along at a robust pace, it appeared as if the Fed would start raising rates in the summer. But the first quarter economic data was weak across the board, punctuated by the disappointing March jobs report and culminating with a 0.2% GDP.
'One Month Not a Trend'
Now it seems the Fed will delay a rate increase until later this year or even into next year.
When rates move higher it will raise borrowing costs, making it more expensive for consumers to get a mortgage or a car loan, or for small businesses to get a loan for expansion. So-called inflation 'doves' at the Fed, a group that includes Fed Chair Janet Yellen, fear raising borrowing costs could further stall the recovery. That's why they've been reluctant to pull the trigger on a rate hike.
Deloitte's Friedman said businesses could actually benefit from the initial announcement of a rate hike if consumers decide to get out ahead of the hikes by purchasing items before borrowing costs move sharply higher. And that could have a positive impact on hiring.
"Consumers could say, 'I better buy that house, I better buy that car, I better buy that appliance before interest rates go higher,'" he said. If they do it has the potential in the short-run to push up demand for goods and force companies to hire in order to fill that demand.
In any case, Friedman said the companies that pay Deloitte for advice don't tend to overreact to a single month's data, even a surprisingly weak jobs report like the one that dropped in March. "One month by itself does not make a trend," he said.