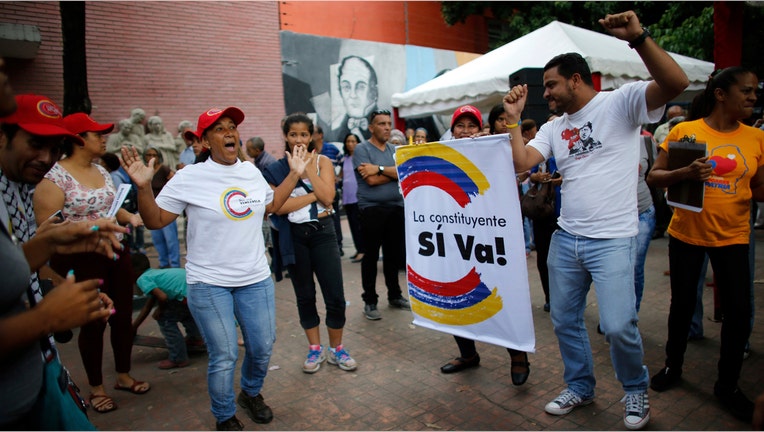 Venezuelan President Nicolas Maduro's government on Tuesday vowed to proceed with plans for a controversial new congress despite what it called a "brutal interventionist" threat by Washington to impose economic sanctions.
U.S. President Donald Trump said on Monday he would take "strong and swift economic actions" if Maduro went ahead with the new body that would have power to rewrite Venezuela's constitution and supersede other institutions.
Giving his government's response, Foreign Minister Samuel Moncada said the July 30 vote for the legislative super-body known as a Constituent Assembly would go ahead anyway.
"It is an act of political sovereignty by the Republic. Nothing and nobody can stop it. The Constituent Assembly is happening," Moncada said at a news conference.
"Today, the Venezuelan people is free and will respond united to the insolent threat from a xenophobic and racist government ... (Trump's) statement reveals the United States' brutal interventionist efforts."
The Republican president called Maduro, who narrowly won election in 2013 to replace the late Hugo Chavez, "a bad leader who dreams of becoming a dictator."
Polls show a majority of Venezuelans oppose the assembly.
Maduro's opponents say they drew 7.5 million people onto the streets at the weekend to vote in a symbolic referendum where 98 percent said they disagreed with the assembly plan.
Calls to cancel the assembly and instead hold conventional elections have come from around the world, including the European Union and major Latin American nations.
Polls show the ruling Socialist Party would likely be thrashed in any normal vote due to many Venezuelans' anger against Maduro and over their economic hardships.
"The Constituent Assembly should be abandoned to achieve a negotiated, safe and peaceful solution in Venezuela. The whole world is asking for that," Colombia's President Juan Manuel Santos tweeted.
Venezuelan opposition supporters have been in the streets for nearly four months demanding a presidential election, freedom for several hundred jailed activists, independence for the National Assembly legislature, and foreign aid to alleviate the OPEC nation's economic crisis.
About 100 people have died in the unrest.
Maduro insists opposition leaders are U.S. pawns intent on sabotaging the economy and bringing him down through violence as part of an international right-wing conspiracy.
Senior White House officials told Reuters last month the Trump administration was considering sanctions on Venezuela's vital energy sector, including state oil company PDVSA.
The idea of striking at the core of Venezuela's economy, which relies on oil for some 95 percent of export revenues, has been discussed at high levels of the administration as part of a wide-ranging review of U.S. options.
But such an unprecedented step could deepen suffering for Venezuelans, already undergoing food shortages and soaring inflation during a fourth year of precipitous economic decline.
Venezuela is the third largest foreign oil supplier to the United States, after Canada and Saudi Arabia, exporting about 780,000 barrels per day of crude.
(Additional reporting by Diego Ore in Caracas, Marianna Parraga in Houston; Editing by David Gregorio)