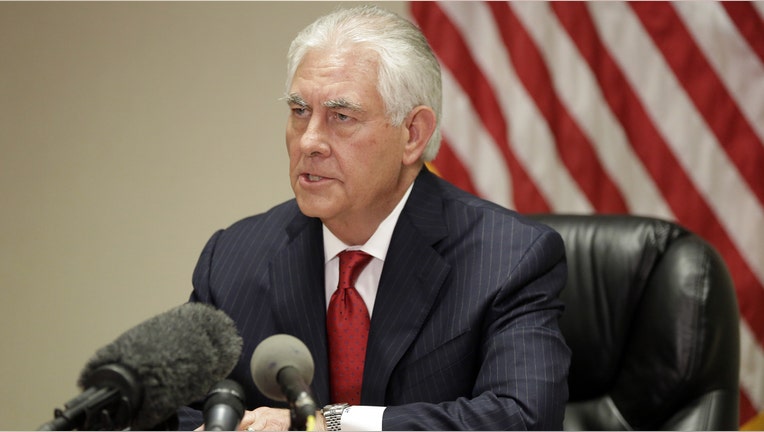 Secretary of State Rex Tillerson is in Russia ahead of a meeting Wednesday where his business experience in the country could improve prospects for a stable relationship between the two quarreling world powers.
Amid flaring tensions between the United States and Moscow over the Trump administration's strong response to Syria's use of chemical weapons, the former ExxonMobil (NYSE:XOM) CEO on Tuesday questioned the sensibility of Russia's loyalty to Syria.
"Is that a long term alliance that serves Russia's interests? Or would Russia prefer to realign with the United States, with other Western countries and Middle East countries that are seeking to resolve the Syrian crisis?" Tillerson asked during a press conference at the G7 summit in Italy.
As a new Associated Press report surfaced Monday alleging Russia knew about the Syrian chemical attacks in advance, Tillerson and his Russian counterpart-- Foreign Minister Sergey Lavrov—are expected to discuss Russia's continued support of Syrian President Bashar al-Assad, despite the ruler's brutal treatment of his citizens. It is the first official trip to Russia by a member of Trump's Cabinet; but the Kremlin says Russian President Vladimir Putin does not plan on meeting with Tillerson while he is there.
"[Tillerson is] going to deliver a tough message. I don't think Russians are going to give an inch. [The U.S. is] not going to give an inch. Then we can start talking," Fred Fleitz, former State Department chief of staff to John Bolton and Robert Joseph, told FOX Business.
On Sunday, Russia and Iran warned that U.S. "aggression" in Syria crossed "red lines," and cautioned they would "respond with force" to any future incident.
Tillerson, who has been heavily criticized for his ties to Russia during his ExxonMobil days, managed the company's Russian account throughout a period of his career. Now, his extensive business experience in Moscow may make him better equipped to handle Russia's attitude shift.
"I think [Tillerson's business ties] will help. There's always a personal level in successful negotiations. Understanding Russia is useful," he said.
Russian military involvement in Syria dates back to the 1950s, and Moscow has since become the country's largest arms supplier, according to a Congressional Research Service Report analyzing government data. Since 2008, Russia has given Syria at least $3.4 billion worth of weapons deliveries, including 50 short range ballistic missiles in February—its largest missile shipment to date. Russia has also expanded its naval base in Syria, allowing 11 warships to be stationed there at any given time.
While many Americans are worried about swelling strains in the relationship between the White House and the Kremlin, Fleitz said the Trump administration's hardline negotiating tactics should actually make the situation more stable when compared with the Obama administration's strategy.
"The president has proved he stands by his word … the Russians respect strength. They don't respect people like [former Secretary of State] John Kerry whose position changes every time he meets with [them]," Fleitz said.
More from FOXBusiness.com...
While the United States implemented sanctions against Russia for its aggression in Crimea last year, which Tillerson said would remain in place, there have been calls from U.S. lawmakers for tougher sanctions in light of recent events. Senate Majority Leader Mitch McConnell said Friday he would be "open" to additional financial penalties.
When it comes to trade, Russia does not even rank within the United States' top fifteen trade partners, according to 2016 data from the U.S. Census Bureau. In 2015, the U.S. was number 11 out of Russia's top 15 export markets, according to Trading Economics.
However, Moscow is on the list of countries adding to the U.S. trade deficit. In 2016 Russia contributed more than $8.7 billion to that sum.