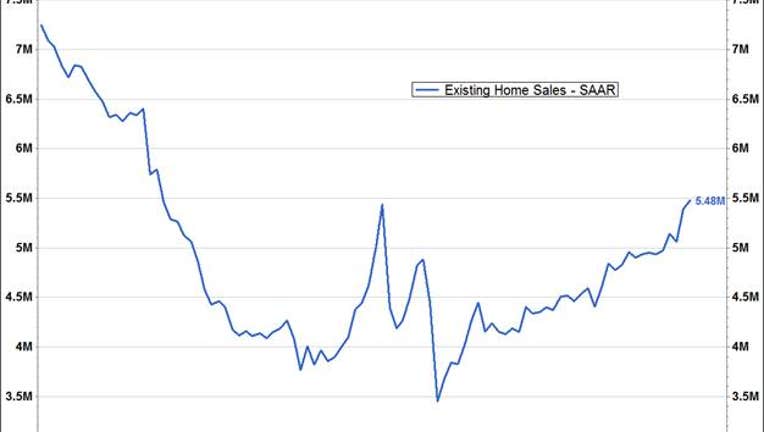 August was a good month for home sales as buyers rushed in before borrowing costs rose any higher.  Existing home sales jumped 1.7% to a seasonally adjusted annual rate of 5.48 million last month, the highest since February 2007. Economists surveyed by Thomson Reuters expected a 2.6% decline to 5.25 million.
The national median existing home price was $212,100 in August, up 14.7% from August 2012 and the largest annual gain since a 16.6% jump in October 2005.
August marked the 18th consecutive month of year-over-year price increases.  The current price of $212,100 is just slightly below June's $214,000 figure, which was the highest since June 2008.
The total inventory of existing homes for sale rose 0.4% in August to 2.25 million.  That works out to a 4.9-month supply at the current rate of sales, and is down from July's 5.0-month supply figure.  Listed inventory is 6.0% below last year's level, when there was 6-months of supply.
Buyers of previously-owned homes typically do upgrades such as remodeling, replacing carpets, cabinets, plumbing fixtures, etc. Therefore, August's upbeat existing home data are helping to give a boost to companies that make or sell the "stuff" that goes into a home.
The following 19 stocks are up an average of 1.10% today while the S&P 500 is flat. For 2013 these stocks have rallied 28% on average, outpacing the 21% return in the S&P.