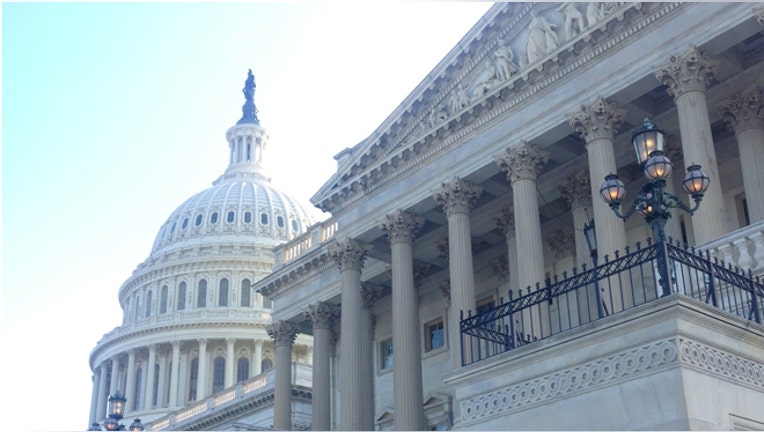 More than 40 Senators met at the White House Friday afternoon with the president, vice president and Treasury secretary to discuss a resolution to the debt ceiling deadline that looms on the Oct. 17 horizon.
Following the meeting, Senator Bob Corker said though there was no hard solution to the nation's fiscal woes, there were hints of progress in the air. "It wasn't a tit for tat or this or that kind of conversation it was much more serious policy content discussion. I didn't not think going over there thinking it would be useful but I left there thinking it was constructive  And lent to an understanding of where the various camps are and where a sweet spot may be to solve this problem," he said.  That sentiment was felt through much of the Senate Republican party after the near 90-minute meeting. Sen. Chuck Grassley tweeted from his verified Twitter account just minutes after the conversations wrapped:
Senator Susan Collins told FOX News there's increasing anxiety from both parties on Capitol Hill to come to some kind of agreement to both reopen the government from its partial shutdown and reach a deal raising the nation's borrowing limit. In an effort to do that, she said she presented her plan to President Barack Obama, which would raise the debt ceiling for six months, but said the president wasn't keen on the approach, though he was open to parts of it.
"I see a six month CR giving us time to working out a spending plan. We don't have to take the whole six months. But I don't see it happening in six weeks...I think the president needs to put out a plan besides just saying they want the debt limit raised," Collins said.
Still, not everyone left the White House feeling warm inside. Senator John Cornyn had a different, more pessimistic, perspective about the president's feeling toward Republican sentiment.
"What could have been a productive conversation was instead another predictable lecture from the President that did not lay out a new path forward. Senate Republicans are back at the Capitol and will continue to discuss plans to cut spending and open the government," he said in a statement following the meeting.
House Still Waits For Debt Deal
Meanwhile, back on the other side of the nation's Capitol, policymakers in the House are engaged in discussions about how to resolve the two major fiscal crises facing the nation.
The meeting with Senate GOP members comes just a day after House GOP and Senate Democrat leaders met with President Barack Obama and Vice President Joe Biden to try and hash out a deal to staving off a potential debt default. The meeting resulted in no final agreement made, and essentially, lawmakers were back at square one.   Thursda, House members brought forward a six-week extension of the debt ceiling and included a provision that would permanently end Treasury's ability to enact extraordinary measures to prevent a debt default now and in the future. Historically, these tools have been critical in pushing back borrowing limit deadlines like the one in 2011. But after hours of talks, the president neither approved nor disapproved of the proposal – and both parties went back to their respective corners to figure out a way to make a deal. Republican Senators on Friday look to bring forward a different plan: One aimed at halting a government shutdown, now in its second week, and increase the nation's borrowing limit. To do this, GOP leaders will look for smaller concessions like a medical device tax repeal or income verification, from the president. Greg Valliere, chief political strategist at Potomac Research Group is optimistic, saying he didn't expect these kinds of talks to begin until well into the weekend or beginning of next week – and Republicans are warming to the idea of de-linking any ObamaCare-related provisions to a funding bill or debt ceiling increase. "After playing the role of passive observer for weeks, the Senate finally is moving. Republicans are coalescing around a bill that could raise the debt ceiling for over a year, while perhaps funding the government for three months…This GOP proposal also would kill the device tax," Valliere wrote in a note to clients Friday morning. Still, Andy Lapierriere, policy analyst at Cornerstone Macro, said though negotiations seem to be moving forward, there's no done deal yet. "Most Congressional Democrats want nothing less than complete capitulation from Republicans, but the Obama administration is showing signs of a willingness to give Republicans a face-saving exit. There are still big differences between the two sides, even in terms of a short-term agreement," he wrote. Lapierriere expects Congress and the White House to reach a short-term agreement within the next few days.Default or No Default…What's the Economic Impact? After weeks of uncertainty, and growing concern the U.S. might just actually cross that debt limit line, analysts and traders alike are beginning to feel relief, and believe a deal is actually in sight.
"The bottom line for investors, obviously, is that the House GOP blinked on the debt ceiling; default never was likely -- and now chances are close to zero," Valliere wrote. "But excuse us for pointing out that the eventual 'deal' will simply kick the can, with another deadline later this fall, or in the winter, or whenever." Wall Street on Thursday enjoyed a day-long rally, with three major stock-market indices ending the day with more than 2% gains. PRG notes Washington is still dysfunctional. While market psychology soared because default seems to now be an option no longer on the table, business and consumer psychology has taken a more lasting blow. Indeed, a report from Thomson Reuters and the University of Michigan released Friday showed consumer confidence hit its lowest level since January, impacted by the two-week-long partial government shutdown and threat of a U.S. debt default while Congress remained publicly gridlocked for weeks.
"The ongoing government shutdown was a significant factor in this decline, and unfavorable references to government economic policy were mentioned spontaneously by 35% of consumers, a new all-time high," Cooper Howes, an economist at Barclays wrote to clients on the heels of the report. Meanwhile, in a note to clients Thursday, Goldman Sachs noted while there's a rush to celebrate a more likely resolution to Washington dysfunction, there's still a lot of uncertainty, and a final deal is unlikely before next week . Even if a resolution on the debt ceiling is reached, the investment bank expects the partial shutdown to remain in place, and arguments over how to solve the funding problems plaguing the nation's capitol to linger. "The shutdown looks less likely to end soon. We noted last week that there was a 30% chance the shutdown would not end when the debt limit was extended, and following the Department of Defense's decision to bring back most employees we noted that the announcement increased this probability. It appears to have risen further now that the House plan excludes a 'continuing resolution' to fund government operations," the investment bank wrote.