Union Red Tape in N.J. Causes Alabama Recovery Crew to Head Home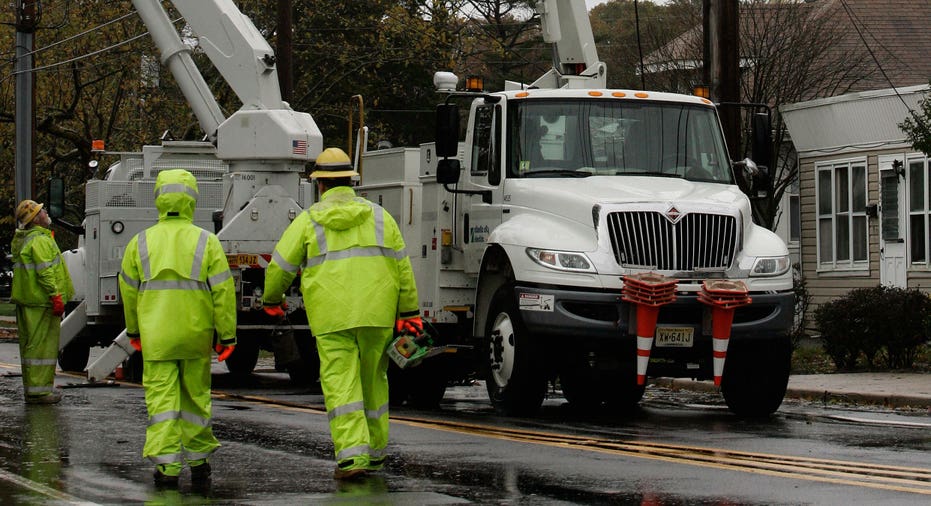 Despite devastation and millions of power outages in the aftermath of Hurricane Sandy, a utility crew from Alabama said it has been unable to help a ravaged New Jersey shore town due to a union dispute.
Officials from the International Brotherhood of Electrical Workers presented Alabama-based Decatur Utilities with documents that "required our folks to affiliate with the union," Ray Hardin, general manager of Decatur, told FOX Business on Friday. "That was something that we could not agree to. It was our understanding and still is that it was a requirement for us to work in that area."
Hardin said most of his six-man, four-vehicle crew was stuck in Virginia on Thursday instead of helping the N.J. shore town of Seaside Heights recover due to the bureaucratic tie-up. Eventually his crew ended up heading back home to Alabama because of the disagreement.
"We chose we could not agree to those documents and began looking for other areas that could use our assistance without those conditions," Hardin said.
Ed Hill, international president of the IBEW, said in an emailed statement: "It is the policy of this union and the companies we represent to welcome assistance during major natural disasters -- regardless of union status."
Decatur said in a separate statement following Hardin's comments that its crews were held in place in Virginia pending clarification of documents received from the IBEW that "implied a requirement of our employees to agree to union affiliation while working in the" New York and N.J. areas.
Decatur said that as it waited for clarification, "we became aware that Seaside Heights had received the assistance they needed from other sources. To be clear, at no time were our crews 'turned away' from the utility in Seaside Heights."
Decatur said it tried to contact other areas that needed help, but "based on the uncertainty of union requirements that we could not agree to and the uncertainty of whether a resolution could be reached, we ultimately" decided to return the crew to Alabama.
"There have been reports that a nonunion crew was turned away from work in New Jersey," Hill said. "At this stage, it is not clear who is alleged to have turned the crew away and the company that employs the affected workers has denied the claim."
Earlier reports indicated two other Alabama utilities -- Huntsville Utilities and Joe Wheeler Cooperative -- were turned away from New Jersey due to union discrimination. However, those utilities have since denied those reports.
"It is unfortunate that at a time when skilled line workers are working around the clock to help devastated communities, sketchy reports should cast a pall over these efforts," Hill said. "The real story is that our members and others are working side by side to help people in New Jersey and all affected states get their power back and recover from the effects of the storm."
Hill said his union will continue to work with "anyone who shares our commitment to safety and service to ensure relief for the people of the Mid-Atlantic and Northeast."
New Jersey, which is the home of many powerful unions, has been ravaged by Hurricane Sandy, especially Jersey Shore communities like Seaside Heights and Point Pleasant.
As of 3 p.m. ET on Thursday, an estimated 1.7 million New Jersey residents were without power, down from 1.8 million earlier in the day. Another 1.5 million in New York are believed to be without power.
PSE&G has said all customers are expected to have their power services restored within the next seven to ten days.