U.S. retail sales beat expectations in January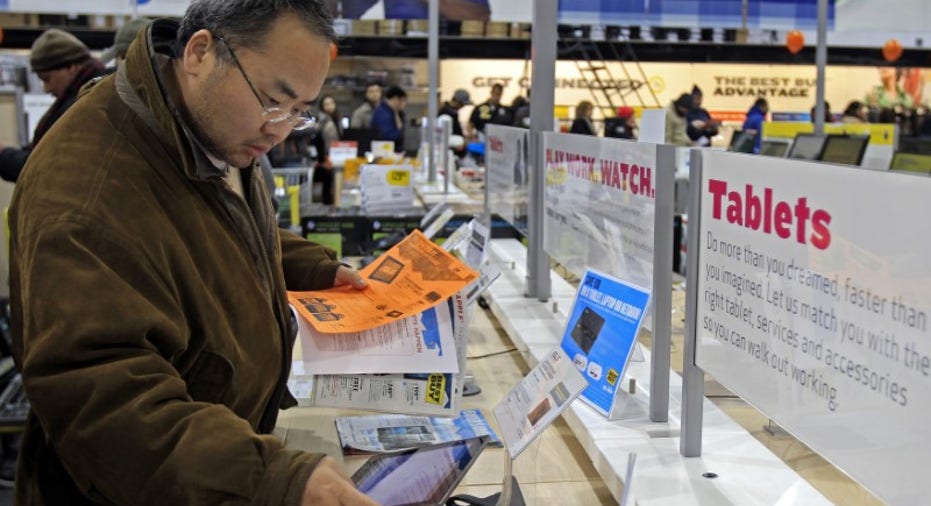 U.S. retail sales rose more than expected in January as households bought electronics and a range of other goods, pointing to sustained domestic demand that should bolster economic growth in the first quarter.
The Commerce Department said on Wednesday retail sales increased 0.4 percent last month. December's retail sales were revised up to show a 1.0 percent rise instead of the previously reported 0.6 percent advance.
Last month's fairly upbeat sales came despite motor vehicle purchases recording their biggest drop in 10 months.
Compared to January last year retail sales were up 5.6 percent.
Excluding automobiles, gasoline, building materials and food services, retail sales increased 0.4 percent after an upwardly revised 0.4 percent gain in December.
These so-called core retail sales correspond most closely with the consumer spending component of gross domestic product.
Economists polled by Reuters had forecast retail sales ticking up 0.1 percent and core sales gaining 0.3 percent last month.
January's fairly solid retail sales supported views that economic growth will accelerate in the first quarter.
The economy grew at a 1.9 percent annualized rate in the fourth quarter.
Consumer spending is being supported by a tightening labor market, which is gradually boosting wage growth.
That in turn is underpinning economic growth, paving the way for at least two interest rate increases from the Federal Reserve this year.
Fed Chair Janet Yellen told lawmakers on Tuesday that "waiting too long to remove accommodation would be unwise."
The U.S. central bank has forecast three rate increases this year.
The Fed hiked its overnight interest rate last December by 25 basis points to a range of 0.50 percent to 0.75 percent.
Last month, sales at electronics and appliances stores jumped 1.6 percent, the biggest rise since June 2015, after falling 1.1 percent in December.
Receipts at building material stores increased 0.3 percent.
Sales at clothing stores jumped 1.0 percent, the largest rise in nearly a year.
Department store sales climbed 1.2 percent, the biggest increase since December 2015.
Department store sales have been undercut by online retailers, led by Amazon.com .
That has led to some retailers, including Macy's , Sears and Abercrombie & Fitch announcing shop closures.
Sales at online retailers were unchanged last month after soaring 1.9 percent in December.
Receipts at restaurants and bars rose 1.4 percent, while sales at sporting goods and hobby stores shot up 1.8 percent.
Receipts at auto dealerships, however, fell 1.4 percent after vaulting 3.2 percent in December.
Last month's drop was the biggest since March 2016.
(Reporting by Lucia Mutikani; Editing by Andrea Ricci)
((Lucia.Mutikani@thomsonreuters.com; 1 202 898 8315; Reuters
Messaging: lucia.mutikani.thomsonreuters.com@reuters.net))