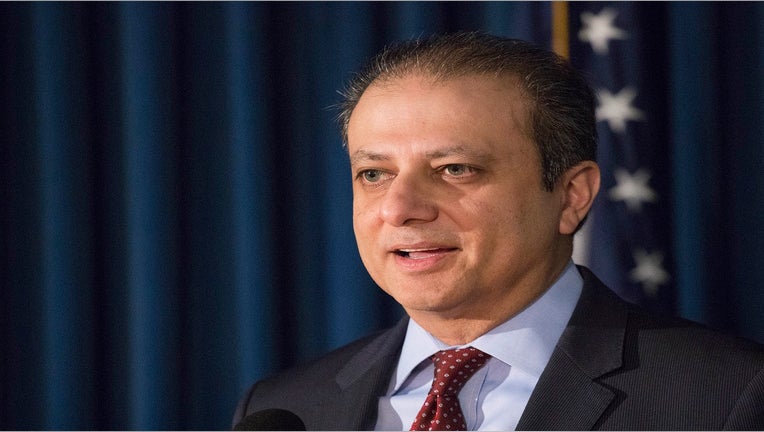 U.S. Attorney Preet Bharara of New York said on Saturday he had been fired after he defied a Justice Department request to resign as the Trump administration cleared out federal prosecutors who served under former President Barack Obama.
"Today, I was fired from my position as U.S. Attorney for the Southern District of New York," Bharara said in a press release. He had originally disclosed his firing in a Twitter post.
The Justice Department confirmed that Bharara was no longer serving in the position and declined further comment.
Bharara, whose jurisdiction as U.S. attorney for the Southern District of New York included Manhattan, has handled a string of high-profile corruption and white-collar criminal cases. He was one of 46 Obama administration holdovers who were asked to resign by the Justice Department on Friday.
Like all of the nation's 93 U.S. attorneys, Bharara is a political appointee who is typically replaced when a new president takes office.
Bharara told reporters in November that President Donald Trump, shortly after being elected, had asked him to remain in the job.
Attorney General Jeff Sessions' decision to replace so many sitting attorneys at once has raised questions about whether the Trump administration's ability to enforce the nation's laws would be hindered. The Trump administration has not yet nominated anyone to fill those spots.
"President Trump's abrupt and unexplained decision to summarily remove over 40 U.S. attorneys has once again caused chaos in the federal government," New York Attorney General Eric Schneiderman said.
Career attorneys will carry on that work until new U.S. attorneys are put in place, the Justice Department said.
Bharara, in his statement, said his seven-year tenure as U.S. attorney "will forever be the greatest honor of my professional life."
He said his deputy, Joon Kim, will serve as his temporary replacement.
Marc Mukasey, a white-collar defense lawyer who previously worked in the prosecutor's office for eight years, has been mentioned as a possible replacement. His father, Michael Mukasey, served as attorney general under Republican President George W. Bush.
Bharara's Manhattan office, which also has jurisdiction over the New York City borough of the Bronx, neighboring Westchester County and some other counties in the state, handles some of the most critical business and criminal cases passing through the federal judicial system. He has been overseeing a probe into New York City Mayor Bill de Blasio's fundraising.
After he was appointed by Obama in 2009, Bharara built a reputation as an aggressive prosecutor who was not afraid to take on complex cases.
Bharara has successfully prosecuted state and local politicians for corruption, including former New York Assembly Speaker Sheldon Silver. He won a lifetime sentence against the Times Square bomber, Faisal Shahzad, and a 25-year sentence for international arms dealer Viktor Bout.
He won a $1.8 billion insider-trading settlement against SAC Capital Advisors, the largest in history, which forced the hedge fund to shut down, and he forced JPMorgan Chase to pay $1.7 billion to settle charges related to its role in the Bernie Madoff Ponzi scheme.
Bharara previously served as a staffer for Democratic Senator Charles Schumer of New York, investigating the dismissal of nine U.S. attorneys by the George W. Bush administration. Alberto Gonzales, who was attorney general, and several other Justice Department officials involved with that controversy resigned.
Trump has asked two U.S. prosecutors to remain on the job, according to the Justice Department.
U.S. Attorney Rod Rosenstein of Maryland has been asked to stay on as the Senate considers his nomination to serve as the No. 2 Justice Department official, and U.S. Attorney Dana Boente of Virginia, who is temporarily serving in that position, has also been asked to remain.
A White House spokeswoman said she did not know whether other U.S. attorneys would be asked to remain in office.
(Additional reporting by Emily Stephenson in Washington and Nate Raymond in New York; Writing by Andy Sullivan; Editing by Leslie Adler)