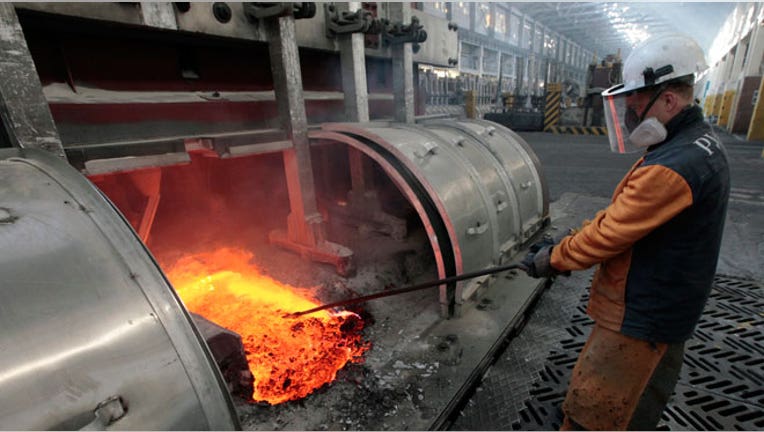 Producer prices fell for a second straight month in October, indicating inflation pressures remain benign.
The Labor Department said on Thursday its seasonally adjusted producer price index slipped 0.2 percent last month as gasoline prices tumbled, after dipping 0.1 percent in September.
The decline in prices received by the nation's farms, factories and refineries was in line with economists' expectations and was the largest drop since April.
In the 12 months through October, wholesale prices rose 0.3 percent after advancing by the same margin in September.
Wholesale prices excluding volatile food and energy costs rose 0.2 percent after nudging up 0.1 percent in September.
The core PPI was boosted in October by the introduction of new motor vehicle models into the survey. Excluding cars and trucks, the core PPI was up 0.1 percent.
Passenger car prices rose 1.7 percent, the most since October 2009, while light truck prices slipped 0.1 percent.
In the 12 months through October, the so-called core PPI increased 1.4 percent after rising 1.2 percent in September.
Sluggish demand is keeping inflation under wraps, which could likely see the Federal Reserve sticking to its monthly $85 billion bond-buying program at least through March as it tries to stimulate demand through low interest rates.
Last month, wholesale gasoline prices fell 3.8 percent. That accounted for nearly all the decline in the energy index last month.
Wholesale food prices rose 0.8 percent, boosted in part by increases in prices for beef and veal, which accounted for nearly 60 percent of the rise. Record increases in the prices of rolls, muffins, bagels and croissants also lifted food prices in October. Food prices had edged up 0.1 percent in September.