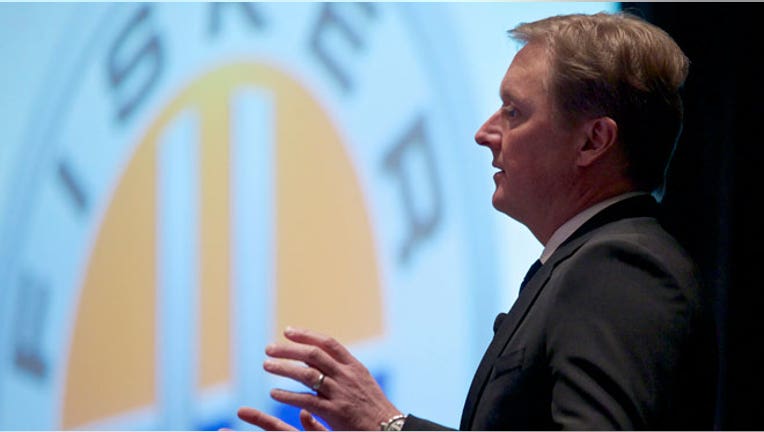 The U.S. government plans to auction off a failed loan given to Fisker Automotive, potentially opening the door for the plug-in car maker to relaunch under new ownership.
The Department of Energy said it will auction its defaulted loan to Fisker on Oct. 11, with bids due Oct. 7. There is an unpaid balance of $168 million on the $529 million loan, doled out by the Advanced Technology Vehicles Manufacturing Loan Program that has drawn criticism from Republican lawmakers in Congress.
"After exhausting any realistic possibility for a sale that might have protected our entire investment, the Department announced today that we are auctioning the remainder of Fisker's loan obligation, offering the best possible recovery for the taxpayer," Peter Davidson, director of the Loan Program Office at the Energy Department, wrote in a blog post.
All bids must include a business plan that "promotes domestic manufacturing capabilities and related engineering for advanced technology vehicles here in the United States," he added.
California-based Fisker launched its first vehicle, the $109,000 Karma, in 2011 but quickly ran into quality issues, including a recall related to batteries made by A123 Systems. The company then ceased production in November 2012, citing its battery supplier's bankruptcy in October.
However, the last Fisker Karma had rolled off the assembly line months earlier. A source told FOX Business that A123 Systems was still capable of filling battery orders but got thrown under the bus, as Fisker sought to redirect blame in the face of criticism related to its government loan.
Fisker drew about $192 million from that loan before the Department of Energy froze it. The department faced growing criticism when internal emails suggested Fisker drew on $32 million in funding after the government was already weary the company had missed performance targets.
When Fisker failed to make payments earlier this year, the government seized $21 million from the company's bank accounts.
In April, Fisker defaulted on its loan, laid off 75% of its workforce and hired a bankruptcy and restructuring firm. A month earlier, founder Henrik Fisker resigned as chairman amid reported disagreements with executives.
But the company didn't file for bankruptcy as investors looked to sell the business and its loan obligation at a reduced rate. Several potential suitors, including Henrik Fisker, have surfaced in news reports.
A few weeks ago, the government auctioned a loan given to Vehicle Production Group, which made wheelchair-accessible vans powered by natural gas. VPG's loan was originally for $50 million but was sold at auction to AM General for $3 million.