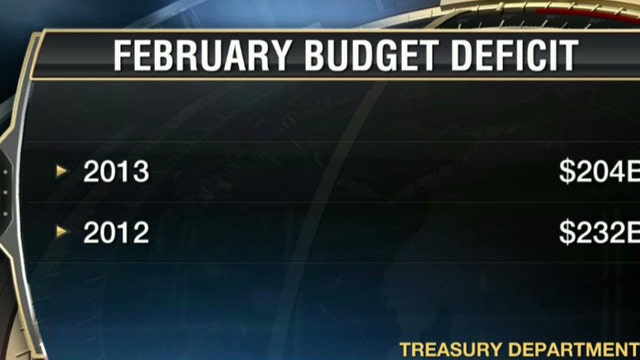 The monthly U.S. budget deficit narrowed in February compared to the same month a year ago, as a delay in tax refunds and lower defense spending added cash to government coffers, the Treasury Department said on Wednesday.
The February deficit was $204 billion, only $1 billion lower than economists' expectations. The deficit in the same month a year ago was $232 billion.
With spending only slightly higher than last year, and tax collection outpacing levels from 2012, the government is on track to post its first budget deficit below $1 trillion in five years. The United States had a a $1.1 trillion deficit last year.
The Internal Revenue Service, the tax-collecting agency, said it would not be able to process any returns filed before Jan. 30 this year due to last-minute and retroactive tax law changes. It thus issued $66 billion in tax refunds last month, 18 percent lower than in February 2012.
The government's cumulative deficit for the fiscal year, which starts in October, narrowed to $494 billion, down 15 percent from $581 billion in the first five months of fiscal 2012.
Government spending was $326 billion in February, just below the year-ago level of $335 billion, though defense spending fell by 16 percent compared to last February. Receipts were $123 billion last month, 19 percent higher than receipts in February 2012.
For the past five months as a whole, government receipts have risen 13 percent to $1.011 trillion, compared to the same period in fiscal 2012. Spending has grown 2 percent to $1.5 trillion, the Treasury Department said.
(Reporting by Anna Yukhananov; Editing by Neil Stempleman)