U.S. Attorney General Says Sanctuary Cities May Lose Federal Grants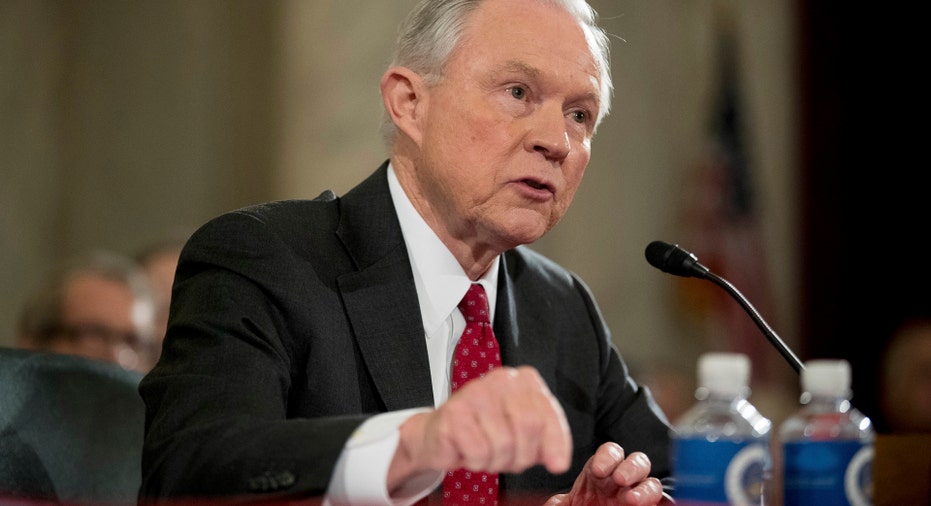 U.S. Attorney General Jeff Sessions said on Monday that cities and states that protect immigrant felons from federal immigration laws may lose grants from the Justice Department.
"Failure to deport aliens who are convicted of criminal offenses puts whole communities at risk, especially immigrant communities in the very sanctuary jurisdictions that seek to protect the perpetrators," Sessions told a White House news briefing.
His statement drew swift pushback from New York state Attorney General Eric Schneiderman, who said his office would continue helping local governments "have the tools they need to protect their immigrant communities."
Sessions said the Justice Department would withhold, and potentially claw back, grants to so-called sanctuary cities and other localities, such as counties, that are not in compliance with federal immigration law.
Sessions, who heads the Justice Department, said one of his agency's offices was expecting to award more than $4.1 billion in grants this fiscal year.
Sanctuary cities help illegal immigrants avoid deportation by limiting cooperation with federal immigration authorities and other agencies.
"I strongly urge our nation's states and cities and counties to consider carefully the harm they are doing to their citizens by refusing to enforce our immigration laws and to rethink these policies," Sessions said.
He gave as an example Kate Steinle, who was shot to death in San Francisco two years ago by illegal immigrant Francisco Sanchez, who had already been deported five times and had seven felony convictions.
The city had earlier released Sanchez from custody even though immigration authorities had filed a request that he be kept in custody until they could pick him up for removal, Sessions said.
In his response to Sessions, Schneiderman, a Democrat, called the Republican president's immigration polices "un-American."
"Despite what Attorney General Sessions implied this afternoon, state and local governments and law enforcement have broad authority under the Constitution to not participate in federal immigration enforcement," Schneiderman said in a statement. "As my office's legal guidance makes clear, President Trump lacks the constitutional authority to broadly cut off funding to states and cities just because they have lawfully acted to protect immigrant families."
Schneiderman said that public safety depends on trust between law enforcement and those they serve, but that Trump's policies "only serve to undercut that trust."
Last week, Maryland's Democratic-controlled House of Delegates approved legislation to bar police statewide from checking the immigration status of individuals they arrest or from keeping them locked up longer than otherwise warranted at the request of federal agents seeking to deport them.
The state's Republican governor, Larry Hogan, has said he would veto the bill if it came to his desk.
The Maryland measure was in line with dozens of municipalities and local jurisdictions across the country that have declared themselves sanctuary cities, including New York, San Francisco, Chicago, Boston, Los Angeles, Philadelphia, Seattle and Washington.
So far no such statewide designations have been enacted.
President Donald Trump in January signed an executive order seeking to withhold federal funds from local governments that limit cooperation with federal immigration authorities.
(Reporting by Ayesha Rascoe; Writing by Eric Walsh; Editing by Tim Ahmann and Jonathan Oatis)