U.S. Adds 209,000 Jobs in July, Unemployment Rate at 6.2%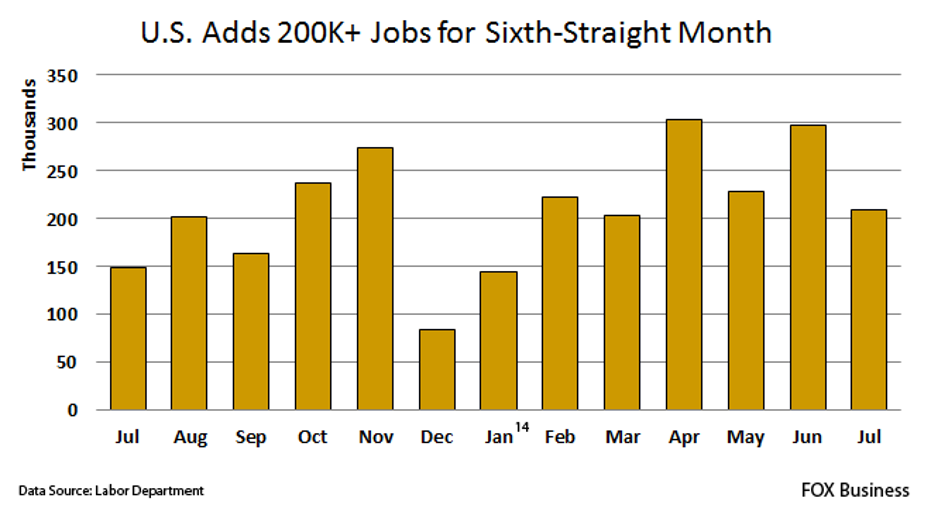 The U.S. added 209,000 jobs in July, less than anticipated but further evidence that the U.S. labor market is holding onto momentum after years of fits and starts following the 2008 financial crisis and deep recession that followed.
It was the sixth month in a row with job gains of more than 200,000. July's headline unemployment rate was 6.2%, according to figures released Friday by the U.S. Labor Department, up from 6.1% in June.
The higher unemployment rate is a sign that more people are returning to the workforce.
"U.S. job creation remained robust in July as the strong economic upturn seen in the second quarter looks to have spilled over into the third quarter. However, with companies reporting growing uncertainties to the business outlook, it's perhaps not surprising that the rate of job creation is showing sign of cooling and could continue to ease in coming months," said Chris Williamson, chief economist at research firm Markit.
Economists had predicted 233,000 new jobs last month and that the unemployment rate would hold steady at 6.1%.
Friday's modest labor data, following a string of recent strong gains – the economy added 298,000 jobs in June -- will likely fuel the growing debate over the timing and trajectory of interest rate hikes.
"Any talk about a healthy recovery regarding jobs hit a brick wall today, and the numbers will certainly be a rallying cry for Bears and Pessimists on Wall Street.  Despite the promising data received on the backwards looking GDP, the forecast for the second half of the year is dismally sensitive," said Todd M. Schoenberger, president of J. Streicher Asset Management LLC.  "The economy still has a long way to go before Americans can even dream about being comfortable again."
The Federal Reserve is using labor market data as one of several economic indicators to determine when to start raising rates from the near-zero range where they've sat since December of 2008. Inflation is another key indicator, and the two data sources go hand in hand.
Analysts say Fed policy makers are looking at more than the number of monthly job gains and the headline unemployment rate as they determine future monetary policy. Indeed, even as the job gains have grown and the unemployment rate has tumbled in 2014, Fed Chair Janet Yellen has cited "slack" in the labor markets as justification for keeping interest rates low at least well into 2015.
Stagnant wages and average weekly working hours have crimped paychecks, curbing demand for goods and keeping inflation below the Fed's target rate of 2%. Inflation has ticked higher in recent weeks, a factor noted on Wednesday in the Fed's statement following its July meeting, but the central bankers gave no indication they're ready to raise rates sooner rather than later.
In July, the average workweek for nonfarm workers was 34.5 hours for the fifth straight month. The manufacturing workweek decreased by 0.2 hour in July to 40.9 hours, and factory overtime edged down by 0.1 hour to 3.4 hours, according to the Labor Department. The average workweek for production and nonsupervisory employees on private nonfarm payrolls was 33.7 hours for the fifth consecutive month.
The average hourly earnings for nonfarm employees barely rose by 1 cent to $24.45. Over the past 12 months, average hourly earnings have risen by 2 percent.
As long as wages remain stagnant, putting pressure on consumer prices low and keeping inflation below the Fed's target rate, analysts remain doubtful that the Fed will shift their timing for rate hikes ahead of the current projected timeline for liftoff of mid-2015.
"If inflation continues to rise, then the Fed's new language could presage an earlier rate hike than anticipated. But we remain skeptical," Paul Edelstein, director of financial economics at IHS Global Insight, said ahead of the release of Friday's numbers. "A critical ingredient for sustainably higher inflation – hourly wage growth – is notably missing. Until we see wage growth firm, we will continue to question whether consumer price inflation will increase much further."
Edelstein noted that central bankers may have revealed their reluctance to hasten rate hikes in Wednesday's statement by noting that despite the monthly job gains and the decline in the unemployment rate "a range of labor market indicators suggests that there remains significant underutilization of labor resources."
In speeches, Yellen has also lamented the large number of jobs lost during the recession that are now being replaced either by part-time or temporary positions, depriving workers of a full-time job with the salary and benefits that go with a full-time position.
Also being closely watched is the labor force participation rate, a key measure of the percentage of Americans currently working. The rate rose slightly in July to 62.9% up from 62.8% a month earlier, but the figure is still at its lowest level in four decades. The employment-population ratio, at 59%, was unchanged over the month but has edged up by 0.3% over the past 12 months.
Analysts want to see these figures moving higher because it means that Americans who lost their jobs in the recent recession are making their way back into the workforce.