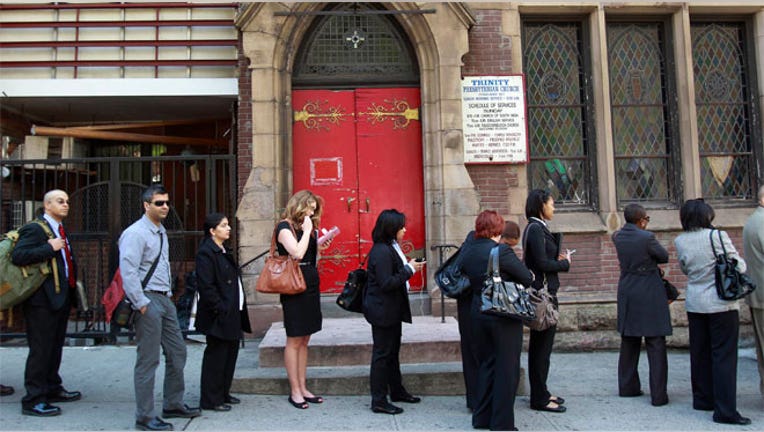 The U.S. economy added 192,000 jobs in March, an improvement over previous months when winter storms and extreme cold cut into hiring and a potential sign that U.S. labor markets may be gaining momentum.
The unemployment rate held steady 6.7% in February. Economists had predicted 200,000 new jobs would be created.
The U.S. Department of Labor said it revised upward by 37,000 jobs the number of new hires in January and February, another positive sign.
"The monthly employment report shows us what good old-fashioned, bread-and-butter job creation is about: Higher consumer demand equates to job growth," said Todd M. Schoenberger, managing partner at LandColt Capital in New York. "The immediate future for job creation seems to be robust, especially considering we are on the cusp of a tremendous econo-thaw in the USA."
Stock markets moved higher after the jobs numbers were released. The broad S&P 500 index rose 0.36% to 1,895.59, the Dow Jones Industrial average rose 0.23% to 16,610.96, and the Nasdaq Composite rose 0.12% to 4242.98.
The total number of unemployed Americans stayed essentially unchanged at 10.5 million. The number of long-term unemployed, or those without work for 27 weeks or more, was also unchanged at 3.7 million.
Lacking from this month's report for the first time in many months is a direct correlation between the March numbers and the Fed's bond buying program.
Fed policy makers have made it clear that unless the labor numbers in combination with other important economic indicators move sharply in one direction or another, the central bank will continue to move ahead with its plan to gradually reduce its bond purchasing program by $10 billion each month until the program expires later this year.
Instead, the new focus is on labor markets' relation to interest rates.
Newly installed Federal Reserve Chair Janet Yellen has placed a renewed emphasis on strengthening U.S. labor markets through monetary policy.
In a speech earlier this week, Yellen said the Fed will maintain its highly accommodative policies in order to ease the burden on average Americans who have found it difficult to find and keep a well-paying, full-time job.
Specifically, Yellen said the central bank isn't likely to start raising interest rates until the unemployment rate falls to a range of 5.2% to 5.6%. At that point, inflation would become a concern because a tighter job market would mean higher wages and consequently higher consumer prices.
In the meantime, interest rates will remain at their current range of 0%-0.25% to spur borrowing, which can help businesses grow and eventually hire more workers. The low rates, Yellen noted, also help consumers pay smaller monthly mortgages and make cars more affordable.
All of that emphasis by Yellen on labor markets has placed a renewed interest on the headline unemployment rate, which is at its lowest level since the worst of the 2008 economic crisis.
Lance Roberts, chief executive at STA Wealth Management, said adding jobs to the economy is important but that policy makers need to focus more on creating "quality jobs."
"If you're working part time you're probably not going to be able to buy a house," he said. "Full-time jobs are what we need to get economic growth going."
Also being closely scrutinized are wage levels; the labor force participation rate, a key gauge of the percentage of working-age Americans currently employed; and the number of full-time jobs relative to the working age population of 16 to 54.
In March, average hourly earnings for all employees on private nonfarm payrolls fell by 1 cent to $24.30, following a 9 cent increase in February. Over the year, average hourly earnings have risen by 49 cents, or 2.1%.
The labor force participation rate was 63.2% and the employment-population ratio was 58.9%, both numbers about the same as in February. The number of people employed part-time for economic reasons was also little changed at 7.4 million in March, according to the Labor Department.
While the headline unemployment rate has been somewhat misleading in recent months, falling because people are leaving the workforce and not because more jobs are being created, these other labor market indicators provide a broader view of whether job conditions are strengthening.
The Labor Department said job growth has averaged 183,000 per month over the past 12 months.
In March, employment in several major industries, including manufacturing, wholesale trade, retail trade, transportation and warehousing, information, and financial activities, changed little from February.
Professional and business services added 57,000 jobs, in line with its average monthly gain of 56,000 during the past year. Health care added 19,000 jobs in March, while employment in mining and logging rose by 7,000. Employment continued to rise in food services and drinking places, where 30,000 jobs were added.
Construction employment rose in March by 19,000. Over the past year, construction employment has risen by 151,000. Employment in government was unchanged in March. A decline of 9,000 jobs in federal government was mostly offset by an increase of 8,000 jobs in local government. Over the past year, employment in federal government has fallen by 85,000.