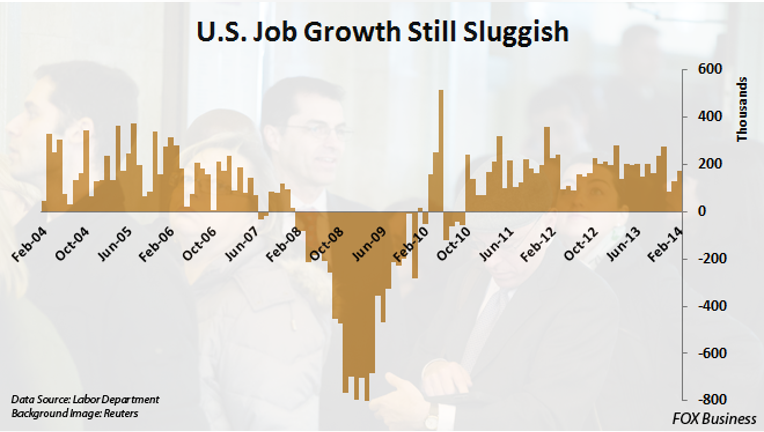 The U.S. economy added 175,000 jobs in February, more than anticipated despite brutal weather conditions across much of the U.S., with the unemployment rate ticking slightly higher.
Economists had predicted 149,000 new jobs. The headline unemployment rate was 6.7% last month, up from 6.6% in January, a positive sign because it means more people entered the workforce.
The December and January jobs figures, which both came in well-below expectations, were revised higher by a combined 25,000.
Weather had been widely predicted to put a dent in the numbers ahead of the release of Friday's data by the U.S. Labor Department. Snow storms and extreme cold were a factor but they didn't impact overall hiring as much as analysts had forecast.
"Severe winter weather looks to have less of a dampened effect on hiring by U.S. companies than anticipated," said Chris Williams, chief economist at research firm Markit.
Instead of chilling overall hiring, the Labor Department said the weather resulted in nearly 7 million people working part-time last month rather than full-time, ten times the number in January and the largest figure since January 1996, when a blizzard paralyzed the Northeast.
Todd Schoenberger, managing partner at LandColt Capital in New York, said the February numbers bode well for the spring, when the weather warms up.
"Despite headwinds, such as the continuation of a brutally cold winter, the labor market persevered, which leads to added optimism for a spring thaw in discretionary spending as we close out the first quarter of 2014," he said. "Wall Street will cheer this report because strict attention is now given to economic and fundamental analysis as the (Federal Reserve) continues its tapering strategy."
The total number of out-of-work Americans held steady at about 10.5 million, the Labor Department reported. The labor participation rate, a key gauge of the percentage of working-age Americans currently employed, held steady at 63%, its lowest level in four decades.
Employment in professional and business services saw the largest gains last month, increasing by 79,000. Accounting and bookkeeping services added 16,000 jobs ahead of the April 15 tax filing deadline. Nearly every other key sector – health care, construction, retail trade – were little changed.
The stronger-than-expected February labor data will undoubtedly strengthen the Fed's case for continuing its plan to scale back its long-running easy-money policies.
Despite a weak January jobs report, Fed policy makers voted unanimously earlier this year to continue reducing the central bank's monthly bond purchases by $10 billion. The amount has been whittled down to $65 billion a month.
In public comments, Fed members have said the economic data would have to shift dramatically for the Fed to alter its stated objective of reducing bond purchases at $10 billion intervals until the program, known as quantitative easing, expires later this year.
The Fed meets next on March 18-19.
After gaining an average of 194,000 jobs each month in 2013, the numbers have fallen off in early 2014. But members of the policy-setting Federal Open Market Committee, including newly installed Fed Chair Janet Yellen, have taken pains to explain that labor data, especially the headline unemployment rate, is one of several economic indicators the Fed is using to determine future policy.
The unemployment rate has fallen to its lowest level since the onset of the 2008 financial crisis but often for the wrong reasons, namely because thousands of people have been leaving the workforce each month which reduces the number of people the government counts as unemployed.
In addition to labor numbers, gross domestic product, which slowed to 2.4% in the fourth  quarter compared to the 4.1% growth in previous quarter, and consistently low inflation have been cited by policy makers as key barometers for the health of the U.S. economy.
In any event, central bankers have vowed to take a cautious approach to tapering, seeking to  find a balance between dialing back bond purchases too quickly, which could backfire if the economy shows signs of stalling again, and not scaling back fast enough, which could lead to runaway inflation.
In February, average hourly earnings for all employees on private nonfarm payrolls rose by 9 cents to $24.31. The average workweek for all employees on private nonfarm payrolls edged  down by 0.1 hour to 34.2 hours in February.