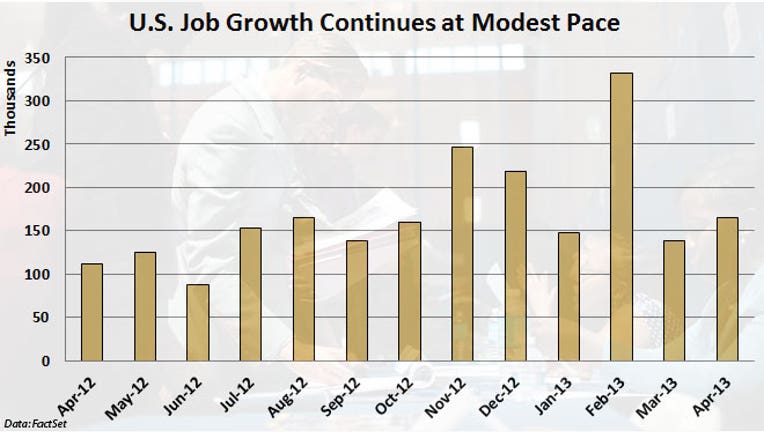 The U.S. added 165,000 jobs in April, better than expected and enough to temporarily quell fears that higher payroll taxes and mandated government spending cuts are draining momentum from labor markets.
The headline unemployment rate ticked lower to 7.5% from 7.6%, the lowest in four years. Economists had predicted an increase of 145,000 jobs and that the unemployment rate would remain unchanged.
Perhaps the best news out of the jobs report was that highly disappointing March numbers were revised upward to 138,000 non-farm jobs created, up from the 88,000 originally reported. In total, revisions added 114,000 jobs to the workforce in February and March.
The takeaway from the April upside surprise and the upward revision for the March and February numbers is that the economy remains sluggish but things aren't as bad as they seemed.
"The upturn is being driven by private sector payrolls, which grew by 176,000 in April. A previously estimated 95,000 rise in March was revised up to 154,000 and 319,000 jobs were added in February, 65,000 more than previously thought," said Chris Williamson, chief economist at London-based research firm Markit.
Nevertheless, even as the pace of hiring was stronger than forecasted in April, it remained below the pace needed to make a significant impact on the unemployment rate. Economists say at least 225,000 jobs need to be added each month to pare down that number.
Stock markets surged higher on the better-than-expected report. The Dow Jones Industrial average was up more than 150 points in early trading and racing toward 15,000.
Through late 2012 and into early 2013, the number of jobs created each month averaged about 200,000. It seemed as if the long-stuttering economic recovery was gaining traction.
But all that changed last month with the release of the March employment numbers, which revealed at the time that just 88,000 jobs were created that month. Just like that talk of the long-awaited, broad-based economic recovery quieted down.
Now the conversation has changed again with the upward revisions revealed today.
Still, economists have attributed the slowdown in hiring from earlier this year to a 2% increase in the payroll tax in January, which will slash the average American paycheck by about $800 this year, as well as the across-the-board cuts in government spending known as sequestration.
Smaller paychecks and less money flowing from the government have curbed demand for goods, which in turn has cut demand for new employees.
Job Market "Remains Weakly Positive"
Earlier this week payroll firm ADP said 119,000 jobs were added last month, well below analyst's expectations.
Aparna Mathur, an economist with the American Enterprise Institute, said the weaker numbers are "likely being driven by the cuts in retail spending as a result of the payroll tax hike, the tax increases on high incomes, as well as the layoffs due to the sequester."
Mathur said the trend in job growth "remains weakly positive."
For months, much of U.S. monetary policy – most importantly interest rates -- has been tied to labor markets. The Federal Reserve has said it won't consider raising historically low interest rates or scaling back on its massive program of bond purchases until the unemployment rate drops to 6.5%.
That still seems a long way off.
"Most importantly, from the perspective of the Fed , which is targeting an unemployment rate of 6.5%, the upturn in hiring has helped bring the unemployment rate down steadily from 8.2% last July to 7.5% in April, its lowest since December 2008," Williamson added.
Both low interest rates and the Fed's bond buying programs are intended to spur economic activity by promoting lending, especially via low mortgage rates. The Fed buys $85 billion in Treasury notes and mortgage backed securities each month, a program known as quantitative easing.
The Fed believes that a strong housing market is the key to a strong labor market. If home sales rise so presumably will demand for goods across an array of sectors, including construction, financial services and retail.
On Wednesday, citing high unemployment and fiscal policy out of Washington, D.C., that is "restraining economic growth," the Fed said it was willing to expand these so-called "easy money" programs if the economy doesn't show more strength in the coming months.
Just over a month ago, ahead of the disappointing March jobs report, the Fed was considering scaling back these programs. That reveals how far sentiment has turned in recent weeks toward a belief that real economic recovery is still a long way off.
Temporary-help services gained 30,800 workers in April, according to the Labor Department, the most since February 2012. Other industries adding jobs included retail trade, leisure and hospitality, health services and education.
The number of employees not working a full week rose slightly to 27.5 million from 27.4 million. An estimated 278,000 additional workers were employed part-time for economic reasons.
Many economists believe the broadest measure of unemployment is the so-called U-6 unemployment rate. In April the figure rose slightly to 13.9% from 13.8% a month earlier, which was the lowest since December 2008.
U-6, also known as the "underemployment rate", starts with the headline unemployment rate of 7.5%, then adds frustrated workers who have given up looking for a job, plus people who are working part-time because they can't find full-time work.  The U-6 reading is widely viewed as the most accurate representation of the real unemployment picture.