Trump's withdrawal threats loom as NAFTA talks resume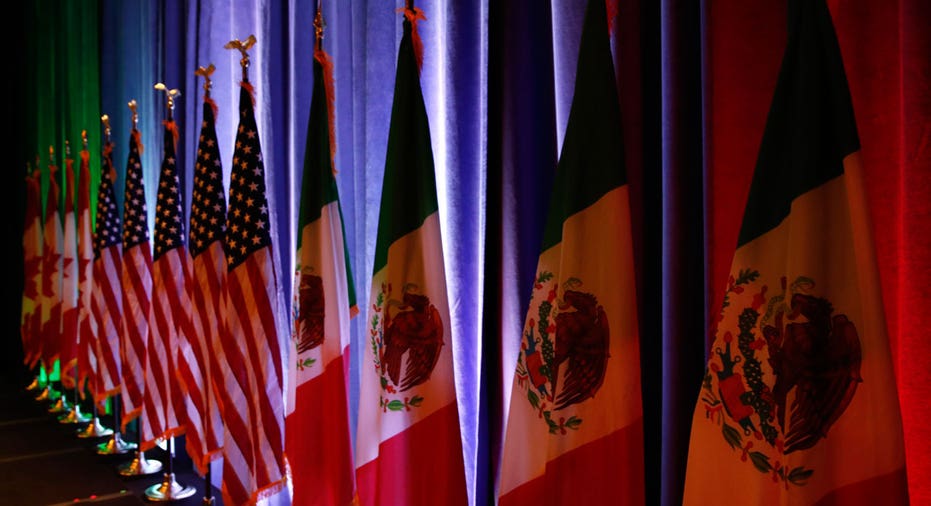 After a controversial first round of discussions, representatives from Mexico, Canada and the United States will reconvene for NAFTA renegotiations in Mexico City this weekend, following President Donald Trump's comments about terminating the deal completely.
Between Sept. 1 and Sept. 5 the three countries will attempt to hash out improved trade terms agreeable to all. One person who doesn't appear overly optimistic about a satisfactory outcome is President Trump, who has said the talks have been challenging.
The U.S. president sounded off on Twitter multiple times about potentially terminating the deal completely. While Canadian Prime Minister Justin Trudeau shrugged off the comments on Tuesday, Mexico's Economy Minister Ildefonso Guajardo said his country was working on a Plan B in case the talks come to an impasse, according to Reuters.
However, on Wednesday, President Trump offered a new alternative if NAFTA renegotiations fail: create an entirely new deal.
"We're working right now on NAFTA, the horrible, terrible NAFTA deal that took so much business out of your state and out of your cities and towns," Trump said during a tax reform speech in Missouri. "We've got to change this deal. And hopefully we can renegotiate it, but if we can't, we'll terminate it and we'll start all over again with a real deal."
President Trump acknowledged that "Mexico is not happy" with how things have progressed so far, but continued on to say the agreement has benefited the country's economy at the United States' expense for years. According to the White House, since the implementation of NAFTA in 1994, the U.S. trade balance with Mexico has shifted from a surplus of $1.3 billion to a $64 billion deficit in 2016.
During the first round of negotiations in D.C., Mexico and Canada highlighted the beneficial parts of the current agreement, while the United States deemed it a failure for American workers and businesses.
"I want to be clear that [President Donald Trump] is not interested in a mere tweaking of a few provisions and a couple of updated chapters," U.S. Trade Representative Robert Lighthizer said during his opening statement. "We feel that NAFTA has fundamentally failed many, many Americans and needs major improvement."
On Thursday, the White House said Trump and Trudeau expressed hopes to reach an agreement on NAFTA by year's end. There are expected to be seven rounds of meetings, total.