Trump's tougher immigration policy extends to workers post-Harvey
The Trump administration, in line with its tough immigration policy, is keeping red tape in place that could make it harder for immigrants in the aftermath of Hurricane Harvey to find jobs with contractors, a decision critics say is likely to slow the Gulf Coast's recovery.
In the aftermath of Hurricane Katrina in 2005, Republican President George W. Bush temporarily exempted employers hiring Katrina victims from verifying that new employees were authorized to work in the United States. The 45-day suspension allowed survivors whose identification documents had been lost during the storm to work while awaiting new ones, but it also allowed undocumented immigrants to quickly find jobs with contractors.
U.S. Citizenship and Immigration Services said in a statement on Wednesday that while it will expedite the replacement of lost documents for storm victims, employment verification requirements will remain in place, a move that drew both praise and scorn from politicians and others.
"With so much rebuilding needed, we should make it easier for folks to get back to work," said Representative Lloyd Doggett, a Democrat whose constituency includes parts of southeast Texas. "Unfortunately, always overflowing with anti-immigrant hysteria, the Trump administration is choosing red tape and bureaucracy instead of learning lessons from past disasters."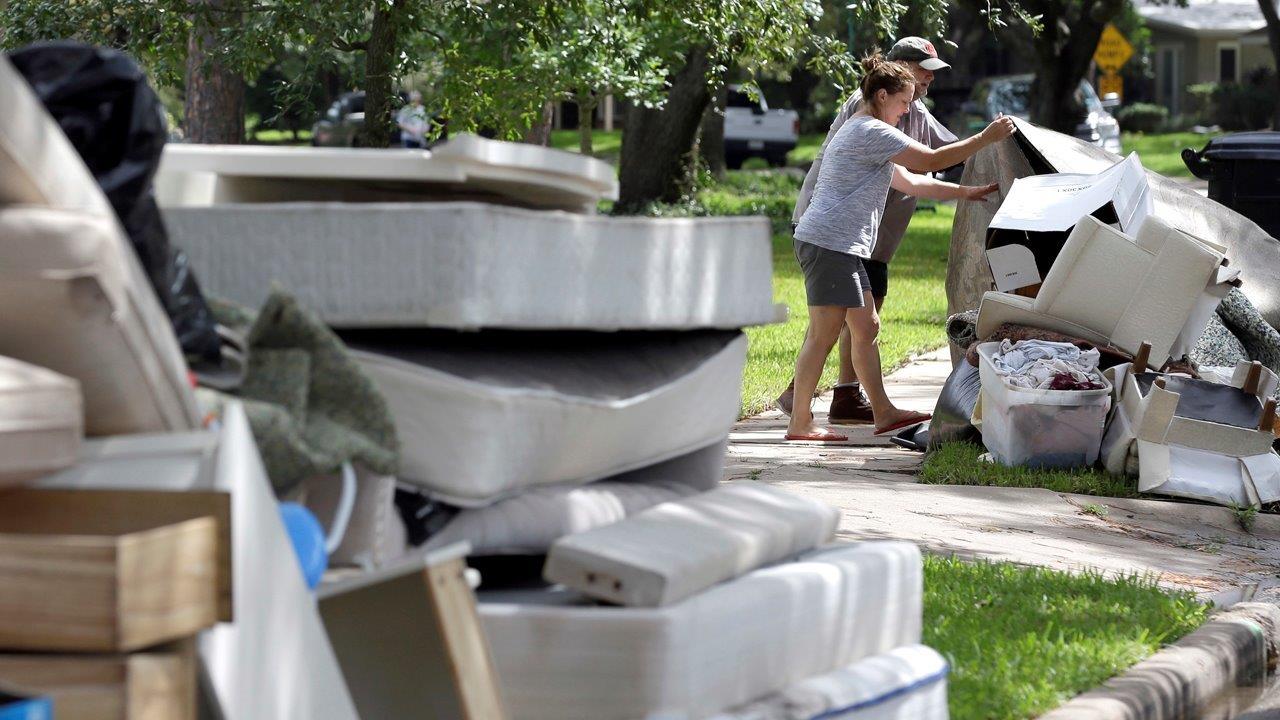 Continue Reading Below
Advertisement
FBN's Jeff Flock talks to volunteers helping with cleanup efforts in the Houston area following Harvey.
President Donald Trump, a Republican, built a base of support in the 2016 election campaign by vowing to stop people immigrating to the United States illegally and is pushing for a wall to be built along the U.S. border with Mexico. But business leaders say immigrants make important contributions and that any effort to limit their employment will hurt economic growth and tax revenue.
Representative Marc Veasey, another Texas Democrat, said the government should not penalize Harvey victims.
"Providing employers with temporary leeway will allow Texans to focus on rebuilding their lives and not on pressuring potential employees to provide documents that may have been lost during Hurricane Harvey," Veasey said.
Representative Lamar Smith, a Republican congressman for south-central Texas, was critical of the Department of Homeland Security (DHS) decision in 2005 and thinks it should not be repeated now. Harvey came ashore last Friday as the most powerful storm to hit Texas in 50 years, flooding Houston and driving tens of thousands from their homes before moving to Louisiana.
On Thursday, he said Harvey's destruction "does not mean federal immigration laws should be ignored."
"Nor should regulations that require federal contractors to verify legal work authorization of their employees," he said in a statement to Reuters. "These policies were put in place to protect American workers and taxpayers."
USCIS referred questions on the decision to Immigration and Customs Enforcement, the division under the DHS that enforces federal immigration policy.
ICE spokeswoman Dani Bennett declined to speculate about future policy changes, but said it was not ICE's intent to conduct immigration enforcement in areas affected by Harvey.
---
<3>More from FOXBusiness.com...
Trump's tax plan could cut rates for wealthy, here's how they could still pay more

U.S. House Speaker Ryan plans Harvey aid 'installments'

Hurricane Harvey victims hang hopes on FEMA response

Texas will undertake the largest rebuilding process anyone has ever seen: Gov. Abbott

---

'NOT THE TIME TO GET PRECIOUS'

Waiving verification requirements after Katrina was aimed at citizens and legal residents who had lost documents in the storm, since employers must verify the identity of all new hires through documents, such as passports, permanent residence cards, or driver's licenses.

But several immigration attorneys said the DHS' 2005 decision was also a tacit acknowledgment that undocumented immigrants were needed to help the rebuilding.

The Pew Research Center estimated last year that 28 percent of Texas's construction workforce is undocumented, while other studies have put the number as high as 50 percent.

"In certain circumstances those are the people you desperately need to help you do things," said William J. Manning, an immigration attorney in New York. "This is not the time to get precious about their documentation."

In the days and weeks after Katrina, contractors from inside and outside New Orleans moved to rebuild and take advantage of government reconstruction funds. But the number of workers in construction and related industries in the New Orleans area plummeted just after the hurricane, according to a 2006 Brookings Institution study.

The DHS decision, and a separate decision by the Department of Labor to temporarily lift wage restrictions, were part of an effort by the Bush administration to address the labor shortage.

Some worry that the Trump administration's decision will slow down the post-Harvey rebuilding, because employers will struggle to meet the federal documentation requirements in the storm's aftermath.

"Damage is damage, and there are repairs that need to be done," said Jorge Lopez, an immigration attorney in Florida. "Local folks are trying to hire right away because even with their existing crew they're not going to have enough people to do all the work that needs to be done."

(Reporting by Yeganeh Torbati; editing by Sue Horton and Grant McCool)