Trump's pivot on infrastructure may kick Wall Street to the curb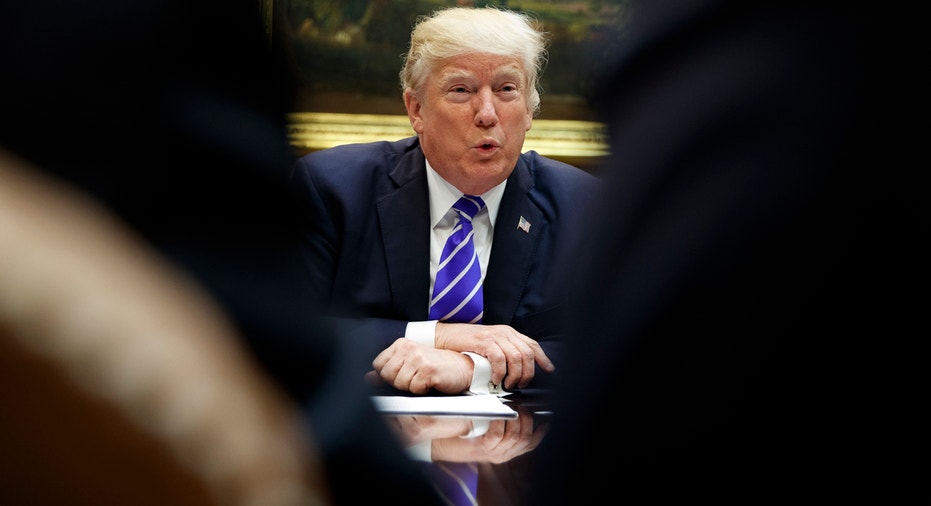 President Donald Trump on Tuesday gave his clearest indication yet that he may be moving away from his original private-public infrastructure plan and is heading in a direction that Wall Street might not be too pleased with, FOX Business has learned.
In a meeting with a bipartisan group of House Ways and Means Committee members, as well as his National Economic Council director Gary Cohn, Trump said he no longer favored private-public partnerships (P3) as a viable option to repair the nation's struggling infrastructure, according to sources familiar with the matter.
A White House official confirmed to FOX Business that the administration was looking at other ways to fix the infrastructure program, but would not be specific when asked which other options they're analyzing.
"Just like with any new policy, there are legitimate questions about how P3s can best be incorporated into our nation's infrastructure program," the official said and later added that private-public partnerships "are certainly not the silver bullet for all of our nation's infrastructure problems and we will continue to consider all viable options."
It's also unclear where the White House was heading with involving investment firms in fixing the struggling infrastructure across the United States. There have been individual cases where private banks are called upon by local or state governments to financially assist in a large scale construction plan and eventually create what's known as a public-private partnership.
These types of partnerships have been part of the infrastructure industry for over a decade. With most of these partnerships, state governments turn to banks as financial advisers or investors in order to jumpstart extensive projects such as bridges and toll roads.
The financial sector, in most cases, sees a huge upswing in profit through the entire process because they can make millions off being an adviser and when banks are investors they can have control over pricing when the final product is complete. For instance, a reconstructed toll road could see an increase in the tolls in order for the investors, which at times can be banks, to start making a profit out of their original investment.
Cohn, a former president at Goldman Sachs, is one of the White House officials who's been working on Trump's infrastructure plan as is DJ Gribbin, former head of government relations at Macquarie Capital. Cohn selected Gribbin to join him on the NEC in February as the Special Assistant to the President for Infrastructure Policy.
Macquarie Capital, which specializes in being an investor and an adviser for public-private infrastructure projects, is based out of Australia but Gribbin worked primarily with governors within the United States as a consultant. According to former colleagues, his qualifications make him a prime candidate to advise the administration on how to create a large scale public-private partnership.
A Macquarie Capital spokesman declined to comment when asked if the firm would have benefited from Trump's P3 infrastructure plan.
Four months after Gribbin was brought on board to determine the best course forward, the administration announced in June that he would be turning to investment groups such as Macquarie to help rebuild.
"The President has dedicated $200 billion in his budget for infrastructure that can be leveraged for a $1 trillion investment into our crumbling systems," the White House said then. "The President's plan will make America dominant by unleashing private sector capital and expertise to rebuild our cities and states," the press release went on to say.
Goldman Sachs's investment bank would also have greatly benefited from Trump's original plan as they have one of the largest infrastructure funds in the United States and have raised more than $10 billion in investments in infrastructure since 2006, according to its website.
A spokesman for Goldman Sachs did not return emails for comment.
While the White House won't disclose what's next for their infrastructure reform plan, a solution could be funding a federal public works program through direct government spending.
Dan Slane, a former infrastructure adviser to Trump during the presidential transition, told FOX Business that the president may have to turn to Congress for help. Though the president may be hesitant to do that since tax reform is a top priority for lawmakers on Capitol Hill.
"He has to go to Congress to ask them to write the check but he won't because he feels it's adding to the deficit. Now it's particularly sensitive because of the tax reform. He's fighting the deficit battle for tax reform," Slane said.