Trump Wins Christie Endorsement on March Toward Super Tuesday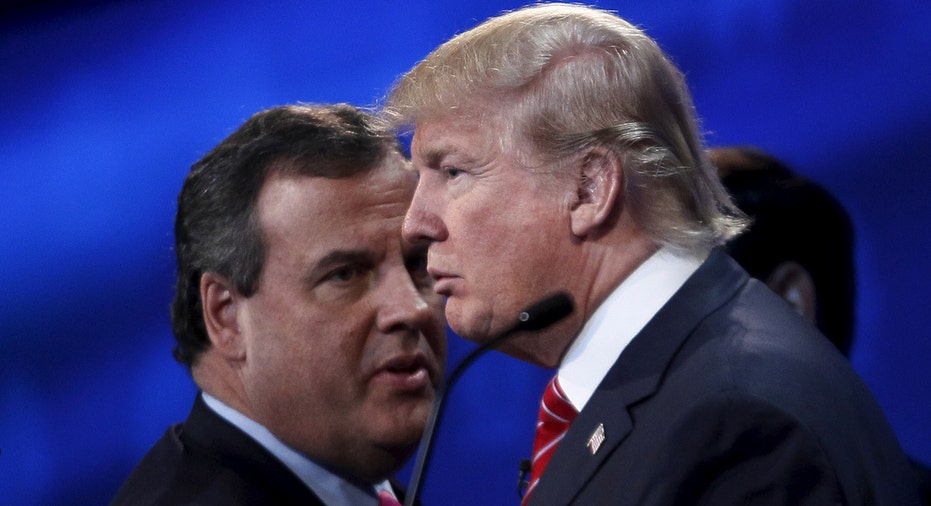 Republican candidate Donald Trump on Friday won the surprise endorsement of New Jersey Governor Chris Christie, the most prominent mainstream Republican to get behind the former reality TV star's White House campaign.
Christie said the billionaire businessman had the best chance of beating Democrat Hillary Clinton in the Nov. 8 U.S. presidential election. The front-runner Trump's unorthodox candidacy has stirred controversy and shaken the Republican Party at its roots.
Trump is "rewriting the playbook," said Christie, 53, who until two weeks ago was himself a rival of Trump for the Republican Party nomination.
A former prosecutor, Christie, has been mentioned in Republican circles as a possible future attorney general, but he said he had not been offered a position in any future Trump administration.
Trump, 69, has never held public office and has campaigned as a political outsider. He is riding a wave of voter anger at the slow economic recovery, illegal immigration and what he says is America's diminishing role in the world.
"The best person to beat Hillary Clinton in November on that stage last night is undoubtedly Donald Trump," Christie told a news conference a day after a Republican candidates' debate. He spoke at a news conference before a Trump rally in Texas.
The endorsement by the New Jersey governor gives Trump, from neighboring New York, a lift ahead of next week's crucial Super Tuesday nominating contests.
Trump, a brash real estate magnate, has won three straight nominating contests in New Hampshire, South Carolina and Nevada, convincing some mainstream Republicans that he may have too much momentum to be stopped, especially if he wins big in the key southern U.S. primaries four days away.
Former Secretary of State Clinton is battling U.S. Senator Bernie Sanders of Vermont for the Democratic nomination.
Trump has vowed to build a wall on the U.S.-Mexican border to fight illegal immigration, called for a temporary ban on Muslims entering the United States and promised to take a tough stance on trade against China.
Republican rivals Marco Rubio and Ted Cruz ganged up on Trump at Thursday's raucous debate in a last-ditch bid to keep the billionaire from winning in states holding nominating contests on Super Tuesday that could set him up to clinch the presidential nomination.
But they only dented Trump's momentum, according to opinion polls and online betting markets.
Rubio, a U.S. senator from Florida, went on the attack again on Friday at a rally in Dallas. "Guys, we have a con artist as the front-runner of the Republican Party," he said.
(By Emily Stephenson; Additional reporting by Steve Holland and Susan Heavey; Writing by Alistair Bell; Editing by Howard Goller)