Trump Warns Republican Lawmakers of Backlash for Health Care Failure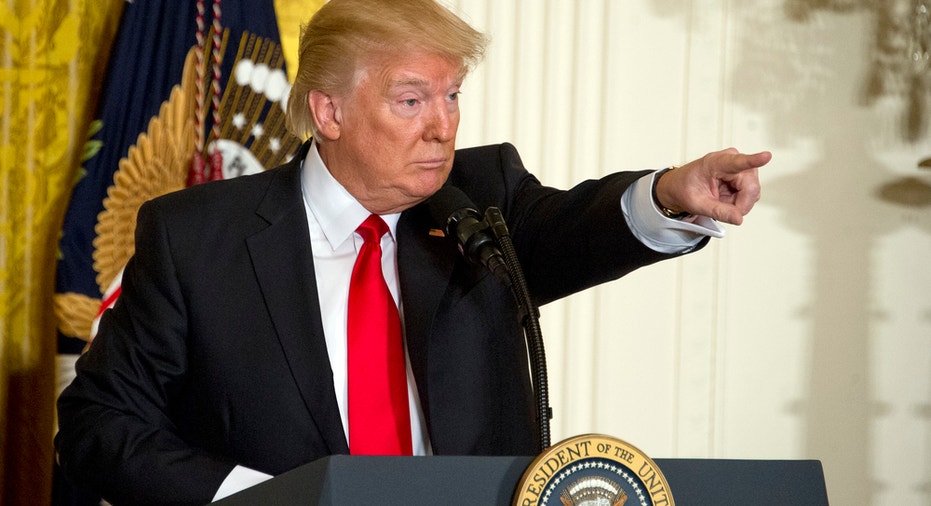 U.S. President Donald Trump warned Republican lawmakers on Tuesday that voters could punish them if they do not approve a plan he favors to dismantle Obamacare, as pressure grew on the businessman-turned-politician to win the first major legislative battle of his presidency.
In one of the few visits he has made to the U.S. Capitol since taking office, Trump told fellow Republicans in the House of Representatives they would face "political problems" for opposing the bill that takes apart Obamacare and partially replaces it.
"The president was really clear: he laid it on the line for everybody," House Speaker Paul Ryan, the leading proponent of the bill, told reporters. "We made a promise. Now is our time to keep that promise ... If we don't keep our promise, it will be very hard to manage this."
While Republicans control both chambers of Congress, the party's leaders face a difficult task in uniting their members behind the healthcare bill, just the first of a series of reforms that Trump has promised including overhauls of the tax system and business regulations.
U.S. stocks turned sharply lower on Tuesday, led by a fall in financial shares, as investors began to question how quickly the Trump administration can implement pro-growth policies.
Sectors that could benefit from policies of lower taxes and fiscal stimulus were weaker as investors perceived those plans may take longer to implement if the Trump administration has to expend more time and energy to get a healthcare plan passed.
Some conservatives believe the healthcare bill does not go far enough, while moderate Republicans worry it goes too far and that millions of Americans will be hurt by dismantling the 2010 Affordable Care Act, former President Barack Obama's signature healthcare legislation.
Party leaders hope to move the bill to the House floor for debate as early as Thursday. But the administration and House leadership can afford to lose only about 20 votes from Republican ranks or risk the bill failing since Democrats are united against it.
Repealing and replacing Obamacare was one of Trump's main campaign promises and has been a goal of Republicans since it was enacted. Trump, who took office two months ago, has yet to push any major legislation through Congress.
Republican Representative Walter Jones said Trump told lawmakers in a closed-door meeting that if the Republican bill does not pass, they would face "political problems." Jones said he thought Trump meant lawmakers could lose their seats.
While Trump predicted that Republicans could face challenges in primary contests ahead of the 2018 midterm elections if they do not gut Obamacare, there is also danger to them in doing so. Millions of voters might lose their healthcare coverage if the Republican bill is passed.
The Congressional Budget Office said last week that 14 million people would lose coverage under the House bill over the next year, although that number could change based on the most current version of the legislation.
CRITICS REMAIN
Republican leaders recrafted the bill on Monday to satisfy critics, mainly fellow Republicans, in part by proposing major changes to tax credits and provisions to alter the Medicaid publicly funded insurance program for low-income people.
Representative Bill Flores said Trump singled out one critic on the right flank of the party, Mark Meadows, chairman of the conservative House Freedom Caucus, during his Capitol Hill visit, saying Meadows would eventually come around to vote for the bill.
"Mark Meadows, he called out two or three times," Flores told reporters. "The reaction, when he said, 'Mark Meadows, I'm coming after you', was pretty loud cheers ... I think he was tongue-in-cheek, half joking."
Despite Monday's changes, the Wall Street Journal reported the House Freedom Caucus has enough votes to block the bill.
Trump, who has not offered Obamacare repeal legislation of his own, did not talk "a whole lot about the healthcare bill except to vote for it," Jones said.
The Club for Growth, an influential conservative lobby group, said it would spend at least $500,000 for ads on television and digital platforms urging members of Congress to defeat the bill.
The Senate will also vote on the legislation and more changes could still be made.
At a rally in Kentucky on Monday night, Trump said he wanted to add a provision to the bill to lower prescription drug costs through a competitive bidding process. There was no such provision in Monday's changes.
Republican chairmen for two key committees said late Monday they proposed more funding for tax credits, which conservatives have opposed, that would give the Senate flexibility to help older people afford health insurance. Additionally, Obamacare's taxes would be eliminated in 2017 instead of 2018.
Monday's amendments also addressed Medicaid, which is the country's largest health insurance program and covers about 70 million people, mostly the poor. The changes would allow states to implement work requirements for certain adults and to decide how they receive federal funds.
The nonpartisan Congressional Budget Office, which said last week the original bill would cause 24 million people to lose coverage over the next decade, is expected to update its analysis of the legislation to include the proposed changes.
Democrats oppose Republicans' plan, saying it would throw millions off health insurance and hurt the elderly, poor, and working families while giving tax cuts to the wealthy.
(By Susan Cornwell; Additional reporting by Jeff Mason Susan Heavey, Yasmeen Abutaleb and Richard Cowan; Writing by Alistair Bell; Editing by Bill Trott and Frances Kerry)