Trump Warns GOP of Third Party Run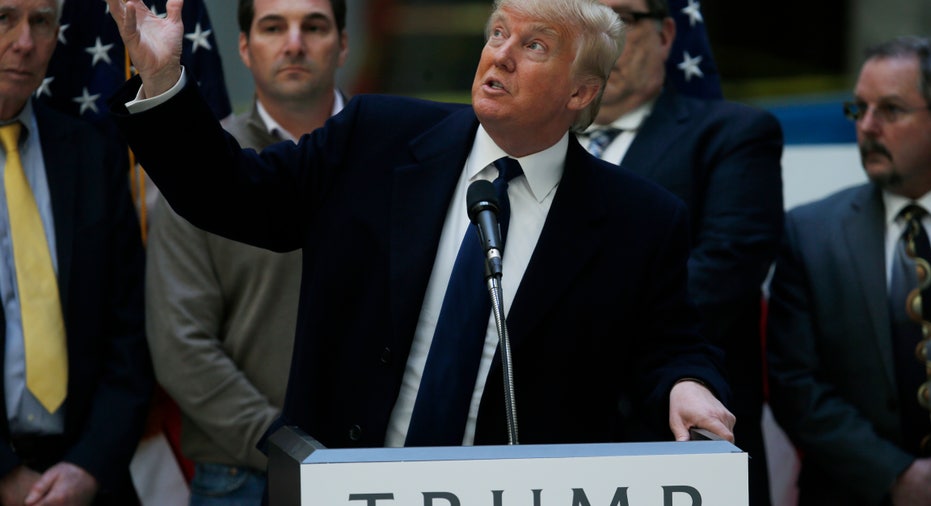 Republican presidential front-runner Donald Trump sought to rally party leaders in Washington behind his insurgent candidacy on Monday, warning of disastrous consequences if a third-party run is launched by establishment Republicans.
At a news conference, Trump presented himself as Republicans' best chances of capturing the White House in the Nov. 8 election. He took steps to appear as the nominee-in-waiting, releasing the names of some foreign policy advisers and pledging to name seven to 10 people he would pick for the Supreme Court.
With increasing talk among establishment Republicans of persuading a high-profile party leader to launch a third-party run to deny him the White House, Trump said such a move would "almost certainly" mean the Democrats would win the presidency.
"If people want to be smart, they should embrace this movement," Trump said at the site of a new hotel he is building in Washington. "If they don't want to be smart, they should do what they're going now and the Republicans are going to go down to a massive loss."
Trump was to speak later to the American Israel Public Affairs Committee (AIPAC), hours after coming under attack there from Democratic front-runner Hillary Clinton for taking a neutral stance toward Israeli-Palestinian peace efforts, in a preview of a possible general election battle between them.
"America can't ever be neutral when it comes to Israel's security and survival," Clinton told the pro-Israel lobbying group, without mentioning Trump by name. "Anyone who doesn't understand that has no business being our president."
Trump's rivals for the Republican presidential nomination, U.S. Senator Ted Cruz of Texas and Ohio Governor John Kasich, were also to appear at the AIPAC meeting. Clinton opponent Bernie Sanders, a U.S. senator from Vermont, was not speaking.
Trump was in Washington for closed-door talks with a variety of Republicans organized by his top backer in the capital, U.S. Senator Jeff Sessions of Alabama. It was his most overt bid yet to seek party unity at a time when many establishment Republicans bitterly oppose him.
The meeting at the offices of the Jones Day law firm included some Republican lawmakers and two former Republican speakers of the U.S. House of Representatives, Newt Gingrich and Bob Livingston.
"We've had almost eight years of Mr. Obama, who's been a disastrous president. We have now an opportunity to change course or have four more years of the same. And I think that Donald Trump is the alternative," Livingston said after the session.
In a separate session with the Washington Post editorial board, Trump named some members of his foreign policy team.
The team included Walid Phares, who Trump called a counterterrorism expert, George Papadopoulos, an oil and energy consultant, and Joe Schmitz, a former inspector general at the Department of Defense.
Trump has drawn fire for his position on Middle East peace negotiations. The New York billionaire has described himself as extremely pro-Israel but has said he would take a "neutral" stance in trying to negotiate an elusive peace settlement between Israel and the Palestinians.
Trump's critics have said he could harm long-standing U.S. support for Israel. Clinton said she would make it a priority if elected to preserve the U.S.-Israeli relationship, ensuring Israel has a qualitative military edge.
"We need steady hands, not a president who says he's neutral on Monday, pro-Israel on Tuesday, and who-knows-what on Wednesday because everything's negotiable," she said.
Clinton, a former secretary of state, also took aim at Trump's vow that, if elected, he would deport illegal immigrants and bar Muslims temporarily from entering the United States.
"If you see bigotry, oppose it, if you see violence, condemn it, if you see a bully, stand up to him," she said.
Trump's rise has alarmed establishment Republicans who have tried in vain to stop him. Their best hope of derailing his insurgent candidacy is to stretch the contest out and deny him the 1,237 delegates needed to formally win the party's presidential nomination.
Trump has 678 delegates to 423 for Cruz and 143 for Kasich, according to the Associated Press.
At his news conference, Trump predicted that he would fairly easily win the needed delegates.
If Trump does not win the 1,237 delegates, the nominee for the Nov. 8 election would be decided at the party's convention in Cleveland. Despite the possibility of turmoil at the July 18-21 event, Republican Party Committee Chairman Reince Preibus predicted on CNN a "fun" convention.
(Additional reporting by Susan Heavey, Mohammed Zargham, Susan Cornwell, David Morgan and Emily Stephenson; Editing by Jonathan Oatis)