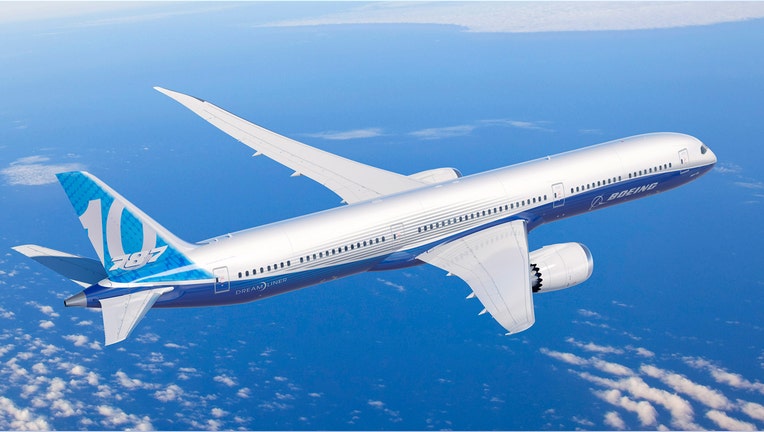 President Trump visited Boeing's (NYSE:BA) North Charleston, S.C. campus on Friday for the reveal of its new 787-10 Dreamliner, the largest in the 787 family.
While addressing a group of Boeing workers, the President reiterated his commitment to American workers and to creating more jobs.
"I campaigned on the promise to do everything in my power to bring jobs back to America. We want to make it much easier to manufacture in our country, and much harder to leave," he said.
The President's visit came two days after workers at the South Carolina plant voted to reject union representation. During the election, Trump handily won the strongly anti-union state, with only 1.6% of Palmetto State workers claiming union membership, according to the Bureau of Labor Statistics.
More from FOXBusiness.com...
The North Charleston plant, which opened in November 2011, is the final assembly site and delivery facility for the 787 Dreamliner. The campus sprawls 743 acres and employs 7,565 workers. As of January 2017, Boeing employed more than 120,000 Americans across nine states.
Boeing has invested more than $2 billion cumulatively in its South Carolina plant, which is the exclusive building site for the 787-10 aircraft. It also spends $355 million each year and uses hundreds of the state's local suppliers and vendors, according to the company.
The new jetliner is 224 feet long and can hold 330 passengers; that is an extra 18 feet in length and 40 more seats more than the 787-9. Its maximum cruising speed is Mach 0.85, consistent with the two previous models. The maximum range of the 787-10 is 6,400 nautical miles. The aerospace defense company's newest jetliner is 15 percent more fuel efficient than its competitors, according to the company.
The South Carolina factory is also the aircraft provider's first 100% renewable energy site, with up to 20% of its energy supplied by solar panels, according to Boeing's website.
The first delivery of the aircraft is scheduled to take place in 2018 to Singapore Airlines. Currently there are 149 orders for the newest 787 model from customers including British Airways, Air France and United Airlines (NYSE:UAL).
Boeing is building a brand new 747 Air Force One for future presidents, but costs are out of control, more than $4 billion. Cancel order!

— Donald J. Trump (@realDonaldTrump) December 6, 2016
Following Friday's big reveal, Boeing says the jetliner will be prepared for flight testing.
Since taking office, Trump has publicly criticized Boeing, calling the company out in December for the high cost of its newest iteration of the Air Force One jet.
Since sending the tweet, the president has met with Boeing CEO Dennis Muilenburg multiple times to discuss the requirements for Air Force One.